A veteran flutist, Omatshola Iseli popularly called Tee Mac has unexpectedly revealed the alleged age of Asiwaju Bola Tinubu, stating that he's unfit for presidential race, while claiming he has no personal problems with him.
To clear his affiliation with Tinubu, the flutist claimed that the All Progressives Congress (APC) presidential candidate, Tinubu is his inlaw.
While replying to a post of a supposed Tinubu's fan on Facebook, he stated that anyone can support any political candidate but stressed that any intelligent person will ask himself some questions.
"Do I choose rightly? Is the man qualified? Is he honest?
"Does he tell us the truth about his age, background and how he made his money? Is this man healthy enough at 86 to take up the task of a totally run down country?" Iseli queried.
He proposed the age of Tinubu as 86 while asking the questions, as against the official age of March 29th, 1952 – 70 years.
Disclosing that he's an inlaw to Tinubu, he said, "You see Tinubu is my in-law. His wife Remi is my cousin. Her Itsekiri mother and my Itsekiri mother are sisters.
"I have known Tinubu since the mid 80s personally and even arranged for him to stay in my stepfather's house ( Sir Mobolaji Bank-Anthony) in London when he went into exile.
"I stopped supporting him and stopped family visits etc when he sold that Buhari to the nation in 2015.
"My advise to the nation is that this man is absolutely not qualified to become our next president."
Tee Mac added that he thinks that the man he replied on Facebook is one of those internet teams defending and countering anything not pleasing the Tinubu camp.
The Nigerian Flutist stated categorically that he does not have any personal problems with Tinubu, "but honestly the way the APC's candidate purchased his presidential ticked made him to be worried about Nigeria".
Undauntedly, he said " I am a proud Nigerian and pray that next year's election will bring us a President who can take Nigeria out of all the problems like insecurity, inflation and poverty. "
He added "We are the most blessed Nation on earth with healthy people, natural resources and nothing should stop us from becoming a leading Nation on this earth."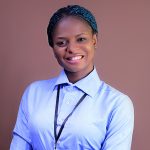 Patience Leonard, PBA Journalism Mentee