Equal Opportunity Group (EOG) of the Joint Admissions and Matriculation Board (JAMB), has supervised 27 visually impaired candidates taking the 2023 Unified Tertiary Matriculation Examination (UTME) in Southeast  Nigeria.
The exercise which started exactly at 11 am on Thursday, took place at Coscharis Lecture Hall of the University of Nigeria, Enugu Campus (UNEC) with 27 out of 28 registered visually impaired candidates in attendance.
The Southeast coordinator, Prof. Mosto Onuoha, explained that the Equal Opportunity initiative is a way in which  JAMB exercises its corporate social responsibility by ensuring that eligible persons with disability were not denied access to tertiary education.
He added that the initiative had existed for seven years to give equal opportunity to blind students to qualify for tertiary education.
Revealing that the group is a brainchild of the current JAMB Registrar, Prof. Is-haq Oloyede, Onuoha stated that it started with a few centres in Lagos, Abuja, Enugu and Kano, and has expanded to include Bauchi, Yola, Kebbi, Ado-Ekiti, Oyo and other states to make it eleven centres.
"Without Computer Based Tests, they can now also write the same exam using other technologies to study law, sociology and other courses. Some of them use braille, marker board, typewriter, stylus, and to some, specialized laptops.
" JAMB brings these people, contacting them in advance to come along with their guides, feeds, provides accommodation for them and gives them a token to support their transportation during the period of the examination," he added.
The Southeast coordinator further revealed that out of millions of students who register for Jamb every year, only a little fraction of them are visually impaired. He however said that the number of visually impaired students dropped this year.
Highlighting the challenges they faced, the coordinator said that their work started immediately after registration commenced. They followed up with calls to make sure the candidates were challenged.
Onuoha told Prime Business Africa that success rate by the visually impaired has been quite high as one of them made a 2nd class upper division in UNN and another is currently studying law.
Some of the visually candidates, who spoke to Prime Business Africa  described the process as smooth and transparent, and expressed hope of  favourable results.
One of the candidates, John  Ifeanyichukwu, who is taking the exams for the second time and applying for Law, described the process as nice and hoped he would pass.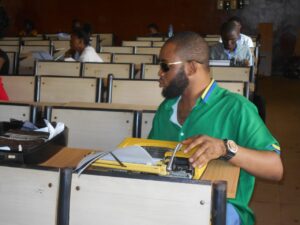 Also, Vincent Okeke who came from Mile 3 in Port Harcourt, appreciated the warm reception given to him and others, saying: "I never expected it and was surprised."
He disclosed that he wants to study guidance and counselling at Nnamdi Azikiwe University Awka.
While commenting on  process, Peace Igwe from Awka Anambra said the exam is "quite good but not that easy". She stated that she wants to study political science at UNIZIK.
In her words, "the JAMB EOG team is very understanding, patient, and attentive, well coordinated and kind. Also, the accommodation is comfortable and we did not lack anything.
"I want to encourage others to be strong and focused. Success depends on determination and focus. Believe in yourself and not be discouraged. Do not see yourself as different because you are physically challenged. You also can make it," added Igwe.
Other coordinators at the centre were Prof. Uchenna Nzewi and Mrs. Mma Okoronkwo with other team members.
Support Investigative Journalism and Mentorship
Courageous Journalism of Truth,Transparency and Development is in the DNA of Prime Business Africa; By donating as little as N1000 or $1 today, you are helping to keep credible journalism and life-changing information free for all.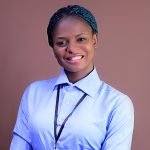 Patience Leonard, PBA Journalism Mentee