Market price of catfish in the Eastern part of Nigeria has relatively gone higher due to some socioeconomic factors, as well as extortion activities by police officers and soldiers deployed on the Lagos-Benin Expressway, Prime Business Africa reports.
Prime Business Africa gathered that  extortion from Catfish transporters and suppliers by Nigerian Police and Soldiers has contributed to the price hike as the sellers calculate what they spend on highways and add to the price at the expense of the innocent buyers.
Some traders lamented that extortion by security agents got worse recently as they increased their charges to N400 and N500 respectively per checkpoint.

These amounts are specific to drivers who transport and supply Catfishes, from western Nigeria (especially, Ogun and Ibadan) to the South-East of the country (Asaba, Onitsha, Enugu and Ebonyi, etc).
Notwithstanding, these drivers and the law enforcement agents as observed by Prime Business Africa during a trip to the East, share a level of cordiality. It seem to have become a normal for them, as the drivers often requested the police and Soldiers at different checkpoints to sometimes change their money to smaller currency denominations to enable settle other officers they met ahead.
In a chat with Prime Business Africa, some of the traders who didn't want to be mentioned averred that before the COVID-19 lockdown, the police collected N100, N200 while army officer collected N300 per vehicle, but they increased the price to N500 and N1,000 respectively during COVID-19 lockdown despite the Federal Government exemption of those involved in transporting essential products across the country.
One of the transporters, Mr Adepoju Oluwadamilola disclosed that the police were bent on collecting their money after giving the initial excuse of having to be served a paper warrant by the Government before plying the road."We later got the papers and photocopied them but even when we tender the paper to them, they still insist on collecting money from us," he added.
Another driver who also ply the route regularly, Mr Chibueze Leonard known as Chibex, also disclosed that he spends nothing less than N35,000 to settle Police and Soldiers per trip from Eriwe Farm Village in Ogun State to Enugu State, while each from Ogun to Asaba trip costs him about N25,000, and less on weekends, due to reduced presence of the security officers at checkpoints on such days.
When asked why they pay such amount, Chibex explained that it started during the time Federal Government imposed midnight curfew and restriction of movement during the COVID-19 lockdown and since then, it became unlawfully mandatory for them to pay always.
The driver revealed that most times, they do not leave fish farms early because of activities involved in sorting, counting and loading them before setting out for the journey, hence the need to settle the Police. He mentioned that they convey the product from some fish farms like Eriwe Farm Village in Ijebu-ode, Ikangba Fish farm in Odogbolu, and others in Ibadan, Oyo State.
In a similar vein, Adepoju also revealed that he personally spend about N23,000 and highest of N25,000 to settle the officers on Onitsha trips from Ogun. "My Enugu trip usually cost N40,000 and lowest of N38,000 to settle these people" Adepoju lamented.
Detailing the variation in prices different states on their route, he said "From Ijebu-ode to Ore in Ondo we pay N200 to the police at every checkpoint. From Ore to capital of Delta, Asaba, we pay N400, and at times they insist on collecting N500. Meanwhile, to any destination, all Soldiers are paid N500".
PBA also observed that there are ticketing groups termed "Produce" deployed by Government of different states to collect money from transporters of mainly agricultural products as tax. It has become institutionalized as business as they recruit street boys who mount road blocks to do the collection.
These boys with thick long sticks as well as torch lights in the night and most times violent, at times engage in seizure of goods, damage of vehicles, and also assaulting motorists who hesitate to pay them or attempt to evade payment by speeding past them, said one of the drivers.
Adepoju has this to say, "They are deployed to give us tickets but we in turn just give them money ranging from N500-N2,000 depending on the state involved.
"We do this because the ticket price is between N2,000–N3,000 and we will prefer to pay lower. These "Produce" are not usually found in Yoruba states since they no more function in Ondo, but once you're about to enter Delta, there are tons of them there.
"They are stationed before entering edo state too. Same apply to those boys at Onitsha bridge in Anambra. Enugu state border with Anambra is not left out, we pay all of them N1,000 and N2,000. Note that there are a good number of them stationed close to each other."
The driver complained that though one may possess the complete vehicular papers, they do not care to ask for it. He mimicked them saying "Your money na N500 or N400 as the case may be."
He continued, " If you do not pay them, you'll submit your keys and park while the fishes risks suffocation and death if you overstayed on the road."
The supplier explained the reason prices of different sizes of catfish in the retail market got higher was partly due to these activities on the highways.  He disclosed that as against N90,000 and N95,000 they previously charged for Enugu trip, it is now N170,000. He further said that supply to Onitsha is now N110,000 as against N55,000 and N60,000 previously charged.
PBA inquired on how these drivers make their gain despite the extortion, and differently they said they only go back home with whatever is left after the expenses which involve settling security agents, fuel costs, "Produce" settling, repair of mechanical problems etc.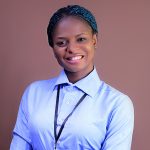 Patience Leonard, PBA Journalism Mentee