Vice-chancellor of the University of Nigeria, Nsukka (UNN) Prof Charles Igwe, has advised the 2019/2020 session graduating students to deploy the skills they acquired during entrepreneurship training in the school to create jobs for themselves and overcome unemployment in the country.
Prof Igwe gave the advice on the occasion of the 50th convocation ceremony of the University.
The VC in his address at the event that took place at Margaret Ekpo Convocation Arena of the institution on Saturday, 25th March 2023, encouraged unemployed graduates not to lose hope of what lies ahead.

Giving a breakdown of successful graduands, he disclosed that a total of 2,482 persons were awarded post-graduate degrees, and a total of 14,308 were awarded Bachelor's degrees in various disciplines.
He said: "Out of this number, 618 persons will be awarded the Doctorate degree, while 1,690 will earn the Master's degree in various disciplines. Similarly, the Postgraduate Diploma of the University will be conferred on 174 persons. Also, a total of 14,308 Bachelor's degrees were conferred on deserving graduands."
Prof Igwe added that these graduands were found worthy in both learning and character. Describing them as "golden graduands", he mentioned that 246 earned first class (Honours), 5,092 earned second class (Honours) upper division; 7,865 merited 2nd class lower division, 1,088 got a third class degree while only 17 graduands were awarded a pass for the bachelor's degree.
He further informed them that they have automatically joined the elite club of the University alumni, an achievement to be proud of, but which holds a higher level of responsibility and expectation with regard to the conduct and achievements.
"Remember, our country needs truly educated men and women to help us solve the perennial problem of a bad economy, corruption, and inability to manage our diversity," the VC reminded them.
He urged them to remember their alma mater as they progress in life and their career.
"I am convinced that the acquisition of a higher degree or diploma brightens your fortunes as well as your chances of being successful… as you progress in life, please also remember to look back to your Alma Mater, and see it as a duty to give back someday," he concluded.
Other highlights of the event were the conferment of emeritus professorship titles and Honorary Doctorate degrees on three notable Nigerians –Engr Obioha Fubara Okoroafor, Dr Ebenezar Onyeagwu both Doctor of Business Administration (Honoris Causa) and Justice Mary Ukaego Odili in absentia, Doctor of Law (Honoris Causa).
The award of Bachelor's Degrees took place on Friday, 24th March.
Support Investigative Journalism and Mentorship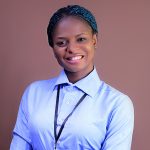 Patience Leonard, PBA Journalism Mentee