A young Nigerian billionaire, Dr Uche Williams Obetta is popularly known as SPD has donated the sum of N4,900,000 (four million, nine hundred thousand naira) to some lecturers of the University of Nigeria, Nsukka (UNN).
The donation was to help the lecturers cushion the effect of the five months old nationwide strike embarked on by the Academic Staff Union of Universities (ASUU) over the government's inability to meet their demands.
The 28-year-old man is the Chairman/CEO of SPD Group of Company, which is known to have successfully operated in Nigeria and overseas in recent years.
The business mogul in a post on his Facebook wall on July 15, said he decided to sympathize with the affected lecturers after a group of them, on July 10th, came to his residence in Nsukka, Enugu State and held discussions with him about their fate in the ongoing industrial dispute. He stated in the post that amidst the discussion, they complained about barely being able to feed or take care of their families since the Federal Government stopped their salaries as a result of the strike.
Obetta said they are yet to be paid for over five months running and their savings are exhausted, adding that many got bank loans, rent expired, while some of them have their kids out of school for lack of money.
Looking at the pathetic situation of the lecturers, SPD remarked, "These are PhD holders dying of hunger, only in Nigeria. A lesson to many is that, always make sure to invest, have an external business, because the government cannot be depended on. I had to give them N2.4 million naira, which shall get to them at 100k each for upkeep."
He condemned the action of the Federal Government stating that "it is totally wicked of the Government to keep these people hungry for this long."
"These are people who have spent all their lives in the classroom, sleepless nights and burnt candles. Is education still the key?" he queried.
Obetta, however, deleted the post more than a week after.
He similarly gave out the sum of N2.5 million to 10 lecturers on Thursday, but posted another statement on his Facebook wall on Friday, July 29th, stating that the company gave another  N2.5 million to 10 lecturers. "…We shall be reaching out to as many lecturers as possible during this hard time.
"Yesterday, through the Manager of SPD Group, Mr. John Paul, we again gave out N2.5 million naira to 10 UNN lecturers as we continue to help them survive this hard time. We are hopeful the ASUU strike would end soon.
"The lecturers are dying of hunger, Professors begging for food is a thing of shame. Only in Nigeria."
This gesture amounted to donating a sum of N4.5 million in the space of a month.
The university+based unions' strike has lingered for over five months, making many lecturers cash-trapped. The Federal Government stopped their salaries as a result of the strike, but ASUU members stood their ground.
Recall that on March 28th 2022, the Senior Staff Association of Nigerian Universities (SSANU) and the Non-Academic Staff Union of Educational and Associated Institutions (NASU) also joined the strike. National Association of Academic Technologists (NAAT) were not left out.
READ ALSO: Nigerian Business Man Secures Deal With TMT, NFT Groups, Others
Following these incidents, the Minister of Labour and Employment, Dr. Chris Ngige slammed the "No-work, No Pay" policy on the union members claiming that it was in compliance with Section 43 of the Labour Law. He said, "Anybody on strike now will not be paid in consonance with Section 43.
"What they (unions) are doing is false leave; they are forcing their employers to close down some of their universities and declare holiday for students because of that.
"So if you do that, you will not be paid. Government is not Father Christmas where you are not working and you will be paid."
Extending their appreciation, to Dr. Obetta, one of the beneficiaries who wants his identity undisclosed said, "Thanks for your generous donation. We have you in our prayers."
Another offered a word of prayer saying, "May God bless and favour him always for he is not like those who would strip us naked in order to give help".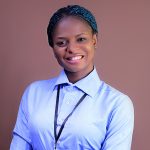 Patience Leonard, PBA Journalism Mentee