It has been three days since voting ended in the Kenya's keenly contested elections but no result displayed has shown that any of the presidential candidate has won.
READ ALSO: Kenyan Elections 2022: Citizens Vote From Diaspora
The head of Kenya's electoral body, Wafula Chebukati on Friday said he knows that the results are taking time to be released. According to him, Party agents are to blame for slowing the process as results sent digitally have to be matched with the paper originals.
Mr. Chebukati who was livid at party officials taking time to verify results had threatened to expel them if they continue.
According to him, it should not take more than 15 minutes to verify results and more desk would be added to hasten the process.
"I am directing that each desk should not take more than 15 minutes per returning officer. We will also add more desks to expedite the process," he said.
Kenya's electoral body, IEBC has not released any official result but results released by media houses in the East African country shows that the race is very tight which means neither deputy president, William Ruto nor his closest rival Raila Odinga is topping the chat.
Due to conflicting results from different media houses, the electoral body chairman said there was no need for panic that the result tally would become similar at the end of counting.
Citizens of the East African country are really anxious of the process taking long because of issues in the past.
The 2007 and 2017 elections were marred with violence and a lot of issues that led to annulment of results and reruns.
The 2007 elections in particular led to the death of about 1,000 citizens and the 2017 elections led to a re-run between Raila Odinga and the incumbent president, Uhuru Kenyatta.
So citizens are hoping that the long hours of waiting will not amount to a repeat of history.
The electoral umpire according to law has seven days to announce the result. Whoever is announced to be the next president must have won more than half of the votes cast in the country and at least 25 per cent of the votes cast in a minimum of 24 counties.
Otherwise voting goes to a second round which by law has to be conducted by September 8.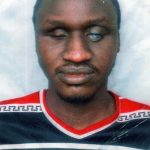 John Adoyi, PBA Journalism Mentee