Senegalese social media personality, Khaby Lame recently declared World Famous Tiktoker in late June this year.
Lame enjoys his growing fame on different social media platforms such as YouTube, Instagram, Facebook, TikTok etc and was recently declared World Famous Tiktoker in late June this year.
Lame is known for ridiculing overly-complex hacks with simple ones. He does this without talking while keeping his facial expressions and body language poker straight, which is his unique selling point.
As of 2022, Khaby Lame became the most-followed TikToker in the world after he unseated Charli D'Amelio as the most famous Tiktoker.
Why Khaby's fame got many media attention in a different way compared to Charli is because of his grass to grace history, because Charli is believed to be born into typical American rich class family.
Khaby Lame turned to TikTok in the early days of Covid-19 pandemic in 2020, after he lost his job working in a factory in Chivasso, a suburb of Turin, 12 miles north-east of the city centre.
Just as countless others resorted to Internet entertainment during the pandemic, he began posting videos on TikTok, first subtitled in Italian. He later went wordless making them just mimetic moves.
The recent Internet fame has brought him multi-million business deals as top brands who want to ride on his success pays to have him partner with them.
First off, he partnered with his first Indian brand "Dream11", a fantasy sports platform in 2021. He later went on to partner with Hugo Boss to star in a campaign surrounding its re-brand in January 2022. The 'Boss x Khaby' collection includes a varsity jacket and hoodie. Then his fame exploded the more when he became a global ambassador for Binance on June 30th, 2022, partnering with them to spread awareness of Web3.
*Other Things You Need Know About Khaban (Khaby) Lame Are:*
• Age & Nationality
Khaban Lame was born by Senegalese parents on March 9th, 2000 in Senegal. His family took up residence at a public housing complex located in Chivasso, Italy, a city where he spent most of his life.
• Religion, Religion Title
Khaby is a practicing Muslim. When he became 14 years old, he was sent to a Quranic school near Dakar, Senegal where he became Hafiz-e-Quran. Hafiz in literal term is used for a male who has succeeded in memorizing the whole of Quran.
It is noteworthy that where found wanting, a hafiz becomes the leader of his community and the go to for religious knowledge, counselling, and other religious disputes.
Someone with such title is honoured by the people of the community with titles such as "Hafiz Sahb" —Sir Hafiz, "Ustadh" —Teacher, "Mawlana" —Master, and occasionally Sheikh.
• Tiktok Followership, Others
Khaby amassed a total of 146.4 million followers on the platform, surpassing the previous queen, Charli D'Amelio's record of 142.3 million TikTok users in the followers' list. He previously in 2021, surpassed Gianluca Vacchi to become the most-followed Italian TikToker.
His current Instagram following is 78.6 million, Twitter 224 thousand followers, 392 thousand subscribers on YouTube and 874.21 followers on Facebook.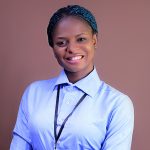 Patience Leonard, PBA Journalism Mentee