By Chidera Abaratu, Journalism Mentee
Former governor of Ekiti State, Ayodele Fayose, has urged President Bola Tinubu to appoint the immediate past governor of Rivers State, Nyesom Wike, as one of the ministers in his cabinet.
Fayose made the call in an interview on Channels Television's Sunday Politics yesterday.
He asserted that Wike is qualified to serve as a minister in Tinubu's cabinet.
He said suggested that Tinubu ought to be grateful to the PDP's G-5 Governors also known as Integrity Group for their assistance in ensuring his victory in the 2023 presidential election.
The G-5 consists governor, Seyi Makinde (Oyo), and four PDP ex-governors: Okezie Ikpeazu (Abia), Ifeanyi Ugwuanyi (Enugu), Samuel Ortom (Benue), and Nyesom Wike (Rivers).
Wike was the arrowhead of the group that worked against the PDP presidential candidate, Alhaji Atiku Abubakar, over irreconcilable differences.
Justifying why he thinks Wike should be part of President Tinubu's cabinet, Fayose said that the ex-Rivers State governor has what it takes to serve Nigeria.
"Wike is an articulate, capable person. If Asiwaju finds him or any of the G-5 worthy, please serve in Asiwaju's government," Fayose stated.
According to him, Nigeria needs an average bad person sometimes.
Fayose also dismissed rumours that G-5 members will defect to the APC, adding that the rumours were not valid.
"The former Governor of Benue is the oldest. At his age, if he is still decamping, his children must disown him. The Wike I know, I can sleep and write about Wike o. Forget that Wike will leave PDP; tell PDP leadership to put their house in order,"  he said.
Support Investigative Journalism and Mentorship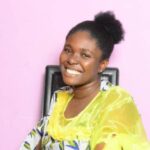 Chidera Abaratu, PBA Journalism Mentee