William Ruto, the former Kenyan Prime Minister has finally won the race to be the next president of the East African nation, this chance he got on his fifth attempt against his rival, Raila Odinga.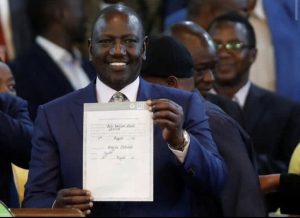 According to results announced by the Independent Electoral and Boundaries Commission (IEBC) on Monday, August 15, Deputy President William Ruto won Kenya's presidential vote, the election commission and is now the new leader of the region's richest and most stable nation.
The national tallying center descended into chaos shortly after Odinga's coalition rejected the results, with fighting breaking out and chairs being thrown in the building.
He rather narrowly won his rival, Raila Odinga, as he took 50.4% of the vote.
The announcement was delayed amid allegations of vote- rigging by Odinga's campaign.
Credibility and transparency is our DNA at Prime Business Africa'. We strongly believe in the role of media as a watchdog of the society that powerfully promotes accountability and transparency in government.
By contributing to Prime Business Africa, you are helping to sustain good journalism and making sure that it remains free to all.
Support Investigative Journalism and Mentorship
Courageous Journalism of Truth,Transparency and Development is in the DNA of Prime Business Africa; By donating as little as N1000 or $1 today, you are helping to keep credible journalism and life-changing information free for all.