It was a harvest of tributes overflowing with spontaneous emotions as friends, colleagues, family and members of the Nigerian diplomatic community gathered virtually, on Thursday, August 11, 2022 during a colloquium organised by Prime Business Africa in honour of Late Ambassador Ejeviome Eloho Otobo, who was a member of the  Board of Directors of the multimedia company.
Late Ambassador Otobo who died in New York in June and buried in July, was also a member of the Editorial Board of Prime Business Africa.
Speaking at the webinar which was held virtually, Senior Special Assistant – Media & Publicity to the Vice-President, Laolu Akande, described Otobo as a very kind and public-spirited person and "a very brilliant scholar and diplomat." Akande said he worked with Otobo on different occasions in New York and through their interactions on several issues he was able to understand the depth of intellect that the late diplomat had.
"Otobo Ambassador has a blessed memory indeed. I came in contact with him when I was in New York. He was a very kind person, working in the UN fraught with a lot of landmines and all kinds of games; offering people tips on how to survive the terrain."
The vice presidential spokesperson also recalled Otobo telling him about engaging in public intellectual activities through the media space, noting that he is glad the late diplomat was able to achieve that ambition through his engagement with Prime Business Africa where he not only served as Editorial Board member but also published block-buster articles on socio-economic, leadership and governance issues in Nigeria and Africa in general.
"We are saddened by his demise, but we are also encouraged by the fact that he has left a very blessed memory. We have a lot of good things to say about Eloho Otobo," Akande added. He also thanked the management of PBA for organising the colloquium to honour the late diplomat.
Leading the discussion on the theme of the colloquium, 'The Africa of Ambassador Otobo's Dream,' a former Nigerian diplomat to the United Nations, Ambassador Oseloka Obaze, described Otobo as a cerebral and Afrocentric diplomat who had a profound belief in the possibility of a greater Africa, and an excellent manager with a penchant for details in all he was involved in.
Obaze who had been a close friend of late Otobo for forty years said he was a generous affable and effervescent personality who was ready to share his knowledge and ideas with any serious-minded fellow he came in contact with. "Our professional and personal friendship began over forty years ago. We were professional colleagues as members of the Nigerian Foreign Service. Eloho was the consummate, professional, career diplomat. He cut his niche in that sector as a scholar-diplomat, both at the national and international levels."
On the pan-African stance of Amb. Otobo, Obaze, said he was a "big 'Dreamer' for Africa," and "unrepentantly Afrocentric." He added that Otobo was a cerebral writer who wrote "passionately about Africa and for Africa.  He wrote broadly on African governance, development and security and issues.
"Eloho saw in Africa, not just an emerging frontier, but a continent imbued with infinite possibilities. Nigeria, however, was his passion, given his deep conviction that an inextricable link existed between Nigeria and the realization of Africa's manifest destiny."
Eloho and Obaze also had a fruitful working relationship in the area of scholarship for more than 30 years in which they co-authored several publications on policy, economy and governance issues in Nigeria and Africa in general.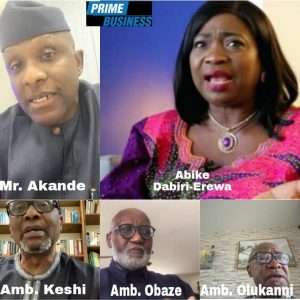 Speaking at the colloquium also, the Chairman, Nigerians in Diaspora Commission (NiDCOM), Hon. Abike Dabiri-Erewa conveyed her sincere condolences to the family of late Ambassador Otobo.
The former House of Representatives member called for a thorough investigation into the circumstances surrounding the death of the diplomat who suddenly went missing and was later found dead a few days after in the neighbourhood where he lived in New York. "Otobo shouldn't die in vain. The Nigerian government should continue to demand what happened to Otobo and how he died. We need that information," Abike Dabiri stated. She equally called for support to the deceased family.
The Moderator of the session, Ambassador Joe Keshi, also a retired diplomat and chairman, the board of directors of the United Bank for Africa, said the death of Otobo was a rude shock to all who knew him.
Keshi who also served as Permanent Secretary, Ministry of Foreign Affairs, and worked in many foreign missions for Nigeria, remarked that Otobo was an intellectual giant who had so many dreams for a better Nigeria and the African continent, but all were not fulfilled before his sudden demise, but they would remain as a source of inspiration to all who believed in his ideals to continue striving to achieve them.
"Ambassador Otobo had so many dreams, but his work, unfortunately, was not completed before his death. His desire to see Africa completely free and rising and enjoying his full potentials unfortunately has not been realized before his departure. But it is a dream that leaves on; and one that we all will continue to strive to for. It will remain an inspiration for it is a work in progress, that is, the full development of Africa."
On his part, former Director General, National Association of Chamber of Commerce, Industry, Mines and Agriculture (NACCIMA), Ambassador Ayoola Olukanni echoed the thoughts of fellow diplomats about what Otobo was known for. Olukanni who was Nigeria's High Commissioner to Australia between 2011 and 2015, supported the call by Abike Dabiri-Erewa for justice to be done in determining what led to death Otobo's death.
READ ALSO: Diplomats, PBA Plan 'Amb. Eloho Otobo Academic Prize' At UniLag
He also revealed plans of a group of diplomats, friends and other professional colleagues to establish an academic prize at the Department of Sociology, the University of Lagos in honour of Otobo. According to him, such a gesture would help to immortalize the intellectual legacies of the late Ambassador.
Reacting to that, the publisher of Prime Business Africa, Dr Marcel Mbamalu, thanked Ambassador Olukanni and his group for coming up with such an initiative and pledged that the multimedia company would play a critical role in the execution of the project.
Chairman of Prime Business Africa Editorial Board, Prof. Pat Utomi noted the invaluable contributions of Otobo in editorial matters as a member of the board and remarked that he would be sorely missed.
Others who joined to reflect on the life and times of Ambassador Otobo are the chairman and deputy chairman, Newstide Publications Board, Dr. Bongo Adi and Prof. Chinyere Stella Okunna respectively; and another member of the board, Mr Jahman Anikulapo.
They recalled Otobo's robust conversations during board meetings and great ideas he often contributed and urged the family especially the wife to be courageous and bear the loss.
The PBA publisher, Dr. Mbamalu thanked all the guests for honouring the invitation to participate in the programme.
Mbamalu stated that his friendship with Otobo started during his days in The Guardian when he reviewed Eloho's second book titled, Africa in Transition: A New Way of Looking at Progress in the Region (2017).
He equally noted that Otobo's death is an irreparable loss to the media company.
Amb. Otobo's Son Expresses Gratitude For Honoring the Father
From the family side, Otobo's sons expressed gratitude to PBA and all who participated for the honour shown to his father and the kind words offered in his memory.
He also thanked all who have supported the family in this trying time especially, his mother, the wife of the late ambassador, Mrs Esther Otobo.
He noted that they had only seen him as father but the colloquium has given them opportunity to have greater perspective of who the man was, given his impacts in his workplace, Nigeria and the world at large.
He also requested that his family be remembered in prayers during this tough period surrounding the death and even till the investigations reveal what really caused his death.