Former Nigerian Ambassador to Liberia, Chigozie Obi, has extolled the virtues of Vice Chancellor of the Federal University of Technology Owerri (FUTO), Prof Nnenna Oti, which has earned her nationwide recognition, especially since the conclusion of the March 28 Governorship Election in Abia State where she served as Chief Returning Officer.
Ambassador Obi, who spoke at the Prime Business Africa Colloquium on Monday in honour of Prof Oti for her role in the 2023 Abia governorship election, said she is made of stellar qualities.
Speaking on the topic, "Professor Nnenna Oti: 'Nwanyibuife' – The Gender of Integrity", the diplomat went down history lane highlighting traditional practices that impeded women's career development and access to opportunities. She noted, however, that, with years of struggle for the liberation of women, there were significant changes, as women were seen rising in different positions across the country and on the global stage.
She pointed out that women could only contribute effectively to nation-building if they were empowered.
"Professor Nnena Oti is a sister who channelled generations of strength, positing defiance in the face of duplicity. A woman who, like the 'Umuada', rooted herself in her convictions, the pursuit of knowledge, the nurturing of family, the tenets of Godliness, and the ethical morality of a societal leader, a feat which has earned her the title, in my book, of 'Akwaaakwuru' I of Alaigbo.
"Luckily, there are many more like her in alaigbo, waiting to be discovered and to be given the chance and opportunity to prove themselves," Amb Obi stated.
She encouraged Oti to keep on maintaining the virtue of integrity she has, despite the challenges in society that make it difficult to be upright.
Nigerian singer/songwriter and human rights activist, Onyeka Onwenu, in her remarks, said what Oti did during the Abia governorship election is not just a pride to the woman folk, but the entire nation. Onwenu said it is an indication that in an age and time when moral uprightness is deficient, we still have someone who possesses uncommon integrity that can't be influenced by material gratification or any form of threat.
She noted that it is only those who have not been in a situation or position where one's life is at stake if they do not compromise, that would not appreciate what Oti did during the Abia election as Returning Officer.
She further re-echoed Amb. Obi's submission that when a woman is well brought up and adequately empowered, she can do extraordinary things for societal good, adding that for Oti to be what she is today in terms of character and achievements, speaks to how her parents raised her.
Onwenu encouraged all parents to see the need to give their girl child a good upbringing and ensure they have equal access to opportunities like their male counterparts.
She noted that Oti has been a role model but this time, it is quite exceptional and iconic.
She said "Prof Nnenna Oti, you did something extraordinary. In that act, you were a true 'Nwanyi Igbo'. We are made of special stuff.
"Even in a society right now that has turned itself upside down, our values are no longer what they should be, there is no sense of justice, no sense of fairness and fair play, yet you stood out. We are here today to honour you and say thank you."
"We are not just celebrating you as a woman; we are celebrating you as a child of God sent to give the people what they want," she said.
In a further expression of her joy, Onwenu, who is a renowned singer, offered to give Oti a free singing performance whenever she is ready for it.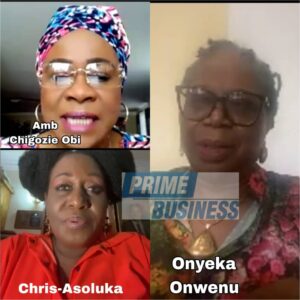 Also speaking at the event held virtually, a former Minister of Health, Prof Onyebuchi Chukwu, said Oti has inspired many in the country to know that doing the right thing is still possible for those in positions of authority.
He said that Oti is celebrated not just because she is a woman but because she displayed an act that is rare in the country today with the opportunity she had. Prof Chukwu prayed that God would continue to grant her wisdom and courage to do the right thing.
President of the Credibility Group, Chief Goddy Uwazurike, described Oti as "a mother of a new Nigeria that is possible.
While reflecting on Oti's lifestyle, Uwazurike called for the entrenchment of a kind of socialisation that promotes gender equality, noting that the importance cannot be over-emphasized.
The colloquium hosted by Prime Business Africa was done in partnership with the Credibility Group, a socio-cultural/political civil society organisation, committed to promoting good governance and accountable leadership in Nigeria.
Also speaking, Nze Charles Anyiam-Osigwe, the Head of the Anyiam Osigwe International lectures series, said Oti would forever stand as a shining light for what a human being should do when integrity is at stake.
Nneka Chris-Asoluka, a lawyer and President Emeritus of Soroptimist International equally showered encomiums on the FUTO VC for her outstanding role during the election. Mrs Chris-Asoluka said the achievement is not only spoken of in Nigeria but globally. "with what she did, it shows that a new Nigeria is still possible," Chris Asoluka added.