As we do here at Prime Business Africa, bringing you new music every Friday, we got another edition for you! Five new sounds from your favorite Nigerian artistes, let's get into it!
1. BlaqBonez Says 'Go Home':
Nigerian fast-risen artist and loved by everyone for his unique marketing skills, BlaqBonez has released a new song titled 'Go Home'. On the track , he's talking about girls that go over to places, doing all the cooking and cleaning, and thinking that that makes them desirable.
However BlaqBonez says he's tired and "it's time to go home and don't call my phone". This is definitely just based on vibes!
Let's see how people love this song right now!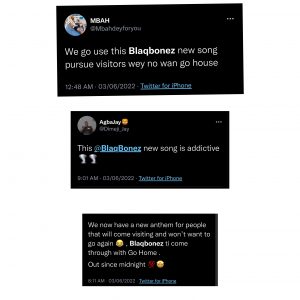 2. Simi- To Be Honest:
Simi didn't just release a song, she released a whole body of work. This album dropped at midnight today and it's already gathering numbers. She hosted a listening party yesterday with colleagues and friends and had a blast. She has about 11 songs on this album and they are all 🔥. I keep saying it, Nigerian artistes are steady bringing their A game!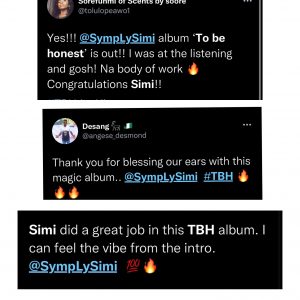 3. Niniola- Want:
Niniola dropped a single too at midnight titled 'Want'. This song is gaining the attention of her fans and a lot of nice things have been said concerning it. Niniola is definitely a talented queen in the afro industry and this is just another assertive work.
Let's see what people think!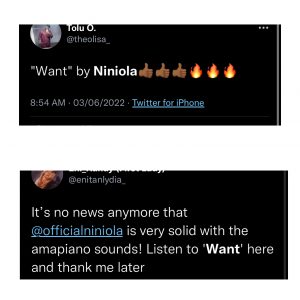 4. 1da Banton- Summer Love:
Summer love by 1da Bantin is surely a "Gbedu"! Flows, vibes, and just pure melody. He is the owner of Hit song "no wahala " and with this track, I think it's only right to believe that he's on his way to another hit with this song!
Listen to this track and let me know what you feel!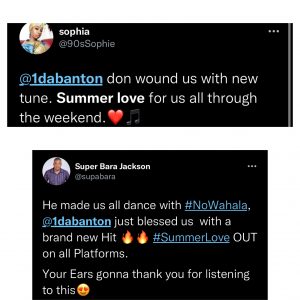 5. Jamopyper – Tease me
Jamopyper has also released another track that he titled 'Tease me'. He's known for his high sound and a lot of energy and this single didn't cut short of that. His infusion of his language into his sound has been able to connect him to his own fanbase and they definitely ride with him now and always. He did something right with this track🔥. Check it out and let me know if you feel the same about this track!
6. Dice Ailes – Ladies First EP
Dice Ailes has released his Extended Playlist titled "Ladies First" and he dropped a total of 6 new jams on this playlist. This tracks are definitely carrying his unique and refreshing sound and a sound that people definitely need to hear.
Dice had been quiet for a while but with this EP, we can say that for sure that break was worth it.