Nigerian singer, David Ademola Adeleke, also known as Davido has taken to the social media to chair and also cheer his followers in the online space for solidarity for his Uncle, Sen. Ademola Adeleke.
He took to Twitter days ago to profess his love for his Uncle, who is contesting on the platform of the Peoples Democratic Party (PDP). Adeleke had during governorship debate, stated that Osun people need education and employment.
Since the beginning of June, his tweets about politics have been consistent, leaving no opposition and supporters unattended to. Due to this, many of his online supporters have gained more followers on their personal handle using the popular "IFB" abbreviation for I Follow Back, under his tweets.
Reacting to a post by @Sodiqtade stating that the Federal Government started the disbursement of funds to the people of Osun, days to the gubernatorial election, Davido replied "Collect and still vote" with reference to voting for PDP.
READ ALSO: #Osun Decides 2022: Oyetola Loses Govt House Polling Unit To Adeleke 
The user tweet read " The Federal Government has recommenced the distribution of N20,000 in Osun State days to the State election. This is nothing but a clear form of vote-buying. The FG that has abandoned the State in the last three years is now interested in distributing money within the State."
On July 10th, 2022, four days to the election, he reminded the Independent National Electoral Commission (INEC) of their duty charging them that "Nigeria and Osun is counting on you".
Hours into the voting, there came downpour in some areas of the state, yet Davido, asserting that victory is close, urged the voters to remain in the rain to monitor the event. He said " It's raining. We will dance in the rain! Don't leave those collation centers ! Victory is close !"
While many PDP supporters claim that the current Osun State Governor from the All Progressives Congress (APC), Gboyega Oyetola has been rejected by the people of the state, some results in some polling units indicated that PDP vote count is out-numbering that of other contenders.
Davido also charged the people not to leave the polling units until results are uploaded. He tweeted again, " Everyone stay out and watch your votes! Let them count it in your front. That way they can't do any Majic! Stick with them. From units to collation centers! Everyone balance! They've seen it's looking bad for them they are getting desperate! Protect your votes!!"
Meanwhile, Prime Business Africa observed that through the number of tweets in support of the PDP candidate, he is more popular to the online users as many pledged their support.
So far, citizens in Osun reports that 1,692 polling units are concluded out of the 3,763 as at the time of filing this report.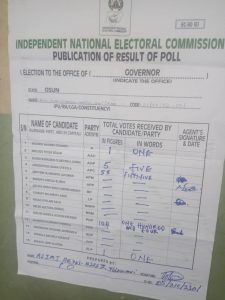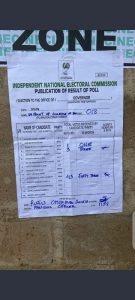 Earlier reports show that Adeleke, won in n his polling booth, Unit 09, Ward 02, Abogunde, Ede North Local Government Area with wide margin. He scored 218 votes whereas his closest rival, Governor Adegboyega Oyetola scored 23 votes. Others results are ADP with 2 votes, Accord with 1 vote, and one vote was declared invalid at the polling unit.
Support Investigative Journalism and Mentorship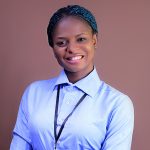 Patience Leonard, PBA Journalism Mentee