Chairman at Heirs Holdings, Mr. Tony Elumelu has stressed that Africans are the ones who can transform the economy of the continent by leveraging  intra-African trade.
According to Elumelu, African countries hardly trade among themselves. "To encourage intra-African trade we must produce what our people need, as well as identify and support small scale businesses."
He stated also the need for strong institutions that focuses and executes Pan-African agenda which he engaged African Export-Import Bank (Afreximbank) as one.
Afreximbank is an international multilateral financial institution set up by African governments under a Charter in 1993. The aim is to promote intra-African trade and trade finance leadership, among many other policies.
At the 29th African Export-Import Bank (Afreximbank) annual general meeting held in St. Regis Almasa Convention Centre, Cairo, Egypt, diverse issues related to Africa's economic growth was discussed.
Discussing the event themed "Realising the AfCFTA Potential in the Post COVID-19 Era- Leveraging The Power of the Youths", many prominent leaders in both private and public sectors across Africa debated the topic.
A policy was created for African Continental Free Trade Area (AfCTA) which the decision makers believed would harness innovative ideas, solutions and actions from the youth to solve challenges in the continent.
On the round-table discussion of the role of AfCFTA in creating path to Africa's economic transformation, Mr. Elumelu mentioned three key drivers of economic growth in Africa. The key drivers according to him, include trade, power and youth.
He added that power is another key driver of African economic development. "No country can progress without robust access to power supply.
"Access to electricity is critical to the industrialization of Africa and the value creation that should occur in our continent!" he buttressed.
Speaking about the youths, Mrs. Bolanle Austen-Peters, founder of Terra Kulture and BAP Productions in Nigeria, argued with African leaders. She debated ''If we cannot provide the means for the youth to achieve the dreams of the AfCFTA, what are we really telling them about these agreements we sign designed to benefit them?"
Other personalities present at the event include, Nigeria's Minister of Information, Culture and Tourism, Alhaji Lai Mohammed; CEO of Fund for Export-Development in Africa (FEDA), under Afreximbank, Ms. Marlene Ngoyi; founder of Terra Kulture and BAP Productions, Bolanle Austen-Peters; Secretary-General, AfCFTA Secretariat, Mr. Wamkele Mene; Prof. Benedict Oramah, President and Chairman of B of D of Afreximbank, Ms. Ojomo Ochai, Co-founder and Managing Partner Creative Economy Practice at CcHUB etc.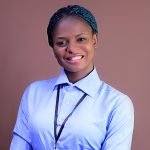 Patience Leonard, PBA Journalism Mentee