Officials of Uganda's health ministry have announced that it has received 1,200 doses of the Ebola trial vaccine.

The trial vaccine, produced by the Sabin Vaccine Institute is one of the three vaccines that the World Health Organisation (WHO) promised to send to Uganda since the outbreak of the Sudan variant of the Ebola virus.

The other two vaccines are from the University of Oxford and Serum Institute of India and the last by Merck & Co Inc.

Speaking at the handing over of the Sabin vaccines at Uganda's National Medical Stores (NMS) offices in Entebbe, Charles Njuguna, WHO Uganda incident manager, said the production and shipment of Ebola vaccine in less than 90 days since the outbreak "is a historic day for the country and the world of scientific health research."

He also added that it is a remarkable effort.

Receiving the Sabin vaccine, Uganda's health minister, Dr Jane, Ruth Aceng, said "It is nine days today that we have no new cases of Ebola, but that does not mean we are out of the outbreak. Uganda encourages scientists to continue research to support the provision of appropriate drugs and vaccines to prevent future outbreaks," Dr Aceng said.

On 20th September, Uganda's health ministry declared an outbreak of the Sudan variant of the Ebola virus in the Mubende district of the country.

The outbreak which spread to other parts of the country has so far infected 142 people and left at least 56 dead.

There is no working vaccine for the Sudan variant of the Ebola virus but the Global health organisation and other health bodies are hoping that the three clinical trial vaccines would be effective against the virus.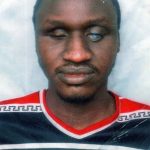 John Adoyi, PBA Journalism Mentee