Former opposition leader in Chad, Saleh Kebzabo has been named the new Prime Minister by the transitioning government in the country.
The appointment of Kebzabo which was announced on state TV by the President, Mahamat Deby is coming a day after the formal Prime Minister, Albert Pahimi Padacke resigned to allow for a new administration that would lead the country till 2024 when elections would take place.
Saleh Kebzabo before his appointment was the leader of the National Union for Democracy and Renewal. He contested the general elections in 2016 and 2011 but lost to formal president Late Idris Deby who died in April 2021 in the fight against insurgents in the country.
Violent conflicts with armed rebels have continued to plague the Central African nation.
Terrorism by Boko Haram also contributes to the frequent attacks that take place in the country.
Following the death of formal president Idriss Deby and the taking over of government by his son, Mahamat Idriss Deby, clashes from opposition parties and other factions had bedeviled the country, leading to the military agreeing to conduct election in 2023.
Deby junior, the head of the military government agreed to form a transition "Government of national union" to lead the country till election holds in 2024, after he decided to push elections further than the 18 months that was agreed last year.
Support Investigative Journalism and Mentorship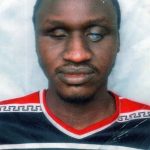 John Adoyi, PBA Journalism Mentee