Hours after Dr. Doyin Okukpe tendered his resignation letter as running mate to Mr Peter Obi of the Labour Party, Yusuf Datti Baba-Ahmed has accepted to be his running mate.
A source within the party revealed that after series of intensive discussions on Wednesday, the academic accepted to be the LP's vice presidential candidate.
Baba-Ahmed will be officially unveiled on Friday, July 8, 2022 in Abuja to enable the presidential candidate who is out of the FCT to witness the unveiling ceremony.
The choice of the former Senator, Yusuf Baba-Ahmed, a well known anti-corruption crusader and economist, has elicited jubilation among Obi's supporters.
The former Senator represented Zaria Federal Constituency of Kaduna State in the House of Representatives from 2003 to 2007 and was elected Senator for Kaduna North in 2011 under the umbrella of the All Nigeria People's Party (ANPP).
He is the founder and Pro-chancellor of the Baze University Abuja and the Baze University Hospital, arguably the biggest private medical centre in Africa.
Recall that the Labour Party and the New Nigeria Peoples Party (NNPP) failed to merge as third force in the 2023 general elections, with Rabiu Kwankwaso's outright rejection of the offer.
Kwakwanso, a former Kano State Governor, had insisted that he would not be deputy to Peter Obi because he (Kwankwaso) is more experienced and  highly-rated politically than the LP presidential candidate. Mr Peter Obi, a successful businessman, was former governor of Anambra State in Nigeria's Southeast region and vice presidential candidate of the People's Democratic Party (PDP) in the 2019 general elections won by the incumbent President Muhammadu Buhari.
Unconfirmed reports also the political interest in Nigeria's core northern states were mounting pressure on Baba-Ahmed  to turn down the Labour Party's offer as Peter Obi's running mate.
Labour Party stakeholders had, in the past few days, also engaged in renewed  talks with the NNPP Presidential candidate, Kwankwaso on how to form an alliance ahead of the 2023 elections to defeat the two major political parties – the PDP, and the ruling All Progressives Congress (APC) with former Vice President Atiku Abubakar and former Lagos State governor Bola Ahmed Tinubu as candidates respectively.
The talks also ended in deadlock, as there remained the issue about who, between Peter Obi and Rabiu Kwankwaso, should be the deputy in the proposed alliance.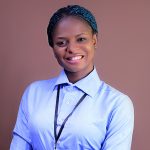 Patience Leonard, PBA Journalism Mentee