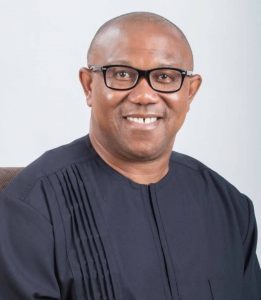 In the light of Nigeria's dwindling revenue and economic challenges, Labour Party's presidential standard bearer, Mr. Peter Obi has advised the Federal Government to invest borrowed funds in regenerative development projects and other productive ventures.

He said this via a statement posted on his official Twitter handle.

Obi stressed that it is a matter of urgency that Nigeria must stop borrowing for consumption but for on productive ventures.

He categorically said "It's ironical that States that received fiscal bailouts did not invest them properly; did not repay the loans and are still borrowing beyond their revenue earnings."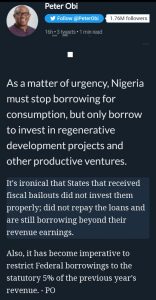 The presidential candidate added that it has become imperative to restrict Federal borrowings to statutory 5% of the previous year's revenue.
READ ALSO: Peter Obi Sends Warning To Pres. Buhari Over Debt Ahead Of 2023 Election

Recall that on Wednesday, the World Bank during a virtual summit raised the alarm that Nigeria might be facing an existential threat if it fails to optimise its tax system and focus on other areas to boost its revenue.

The international financial institution warned that if the country failed to optimise its tax system and focus on other areas to boost its revenue, the already low revenue would continue to drop.
The Bank noted that despite the rise in the price of oil in the international market, Nigeria had not reaped the benefits because of the huge amount spent on fuel subsidy.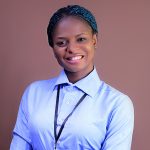 Patience Leonard, PBA Journalism Mentee