Following the circumstances surrounding the death of Mrs Chidiebere Iloka, wife to the newly appointed Transition Chairman of Nnewi North Local Government Area of anambra state, Hon. Mbazulike Iloka, the State Government has suspended him until investigations are concluded.
The directive was contained in a suspension letter dated August 11, 2022, signed by the Commissioner for Local Government, Chieftaincy and Community Affairs, Mr. Tonycollins Nwabunnwane.
Iloka was directed to hand over affairs to the head of the local government administration, to allow due investigations until justice is served on the matter.
The letter read thus: "Following the sad and sudden death of your wife, late Mrs Chidiebere Iloka, on the 7th of August, 2022, there has been a massive public outcry over the circumstances leading to the cause of her death, including alleged possible homicide.
"While you are presumed innocent until the completion of investigations, it has become imperative that you should step aside to allow unfettered investigations and justice.
"Consequently, you are directed to step aside and hand-over the affairs of the local government to the head of local government administration not later than 12 August, 2022 (today), until further notice."
Iloka, who was recently sworn in as the council boss is being fingered to have a hand in the death of his wife alleged to have suffered from severe bashing.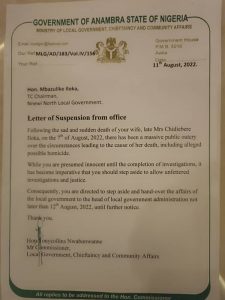 The former Local Council boss had on August 7, 2022 announced on social media that his wife slumped and died.
However, pictures and videos of the wife's remains taken at hospital showed bruises on her head and other places which raised suspicion that she may have suffered from domestic violence.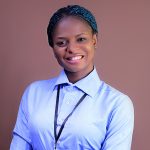 Patience Leonard, PBA Journalism Mentee