Thomas Friedman in 2005, wrote in his international bestseller, "The World is Flat" to explain how companies in the rich developed countries were taking advantage of cheap labour in the developing countries to expand their businesses.
Today, there is another trend, not entirely opposite but just an equally worthy theme of a bestseller. Tech companies and tech enabled businesses in Africa are taking advantage of cheap capital, high value incentives and enabling infrastructure in the developed countries to expand their businesses.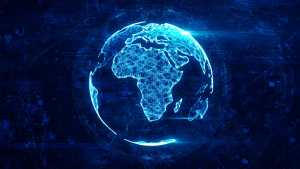 The trend, which I term, "From Africa to the rest of the world" actually started before the Covid-19 pandemic but it has accelerated during the pandemic. The pandemic made it glaring that the only thing that is cheap and readily available in Africa is the potential market.E Everyone agrees that there is a large growing population in Africa eager to try services and products that already exist in the developed countries.
Unfortunately, the good news stops there for indigenous companies in Africa as every other part needed to build a successful tech company is in shortage.
In fact, skilled labour is almost non-existent as most have emigrated and the few very skilled ones still on the continent are working remotely for foreign companies that have priced them out of reach of most local companies.
While developed countries were making regulations and programmes to support their indigenous tech companies during the pandemic, many African countries were doing the opposite by creating regulations that made life tougher for tech businesses than the pandemic already was. Nigeria took the medal for making life miserable for its indigenous tech companies through sudden negatively impacting regulations, excessive cross-border capital flow control and installing barriers where other countries were installing incentives.
READ ALSO: Reasons You Shouldn't Run Your Business On Cash
Today, many tech entrepreneurs in Africa are doing what no one would have imagined 10 years ago. They are incorporating their businesses in other countries.
Currently, there are over 1,000 US companies that are in reality african companies — they are owned by africans, run by africans and provide services to africans in Africa and they choose to set up as an american company so that they can overcome the ever present pandemic all indigenous companies in Africa face: the pandemic of a government that wants to put them in comatose.
At the start of last year, Nigeria was a paradise for tech startups. Young entrepreneurs were waking up daily with ideas of a problem to fix using tech and would follow a well established path to raising money from investors in North America and Europe. Their pitch to investors was an easy one – a market size of over a 100 million people, an open-to-tech country that leapfrogged landline to mobile telephony, no regulatory worries and many recent successful startups. All the investors usually cared about were who are the others investing, for them, the more the merrier.
The story began to take a negative turn with the regulatory attack on motorbike hailing startups in Lagos effected on 1st of February 2020. It was the end of all entrepreneurial creativity and capital raise in that tech space. The tech community saw it as an isolated issue, one affecting just one state, Lagos State, and just a few startups, unfazed, the tech startup ecosystem marched on.
In fact, with the lockdown causing people to have more time to worry about their finances as the Naira depreciated, the fintech space boomed with startups promising to help Nigerians do better financially.
However, some highly placed people did not like seeing their pie lose some crumbs and the greater part of this year has been one of every regulatory body in the financial sector of the country, especially the CBN, swinging their baseball bats against the fintech startups. They were so determined and persistent in the attacks that it looked like extinguishing the nascent fintech space was the solution to all the country's problems.
The fintech space is still alive, though with deep scars, but the message the entire tech space in Nigeria got was that the government and regulatory bodies are out to get them and not to help them. Companies in the crypto space like Patricia had to re-register in Estonia as an European company so that they can reduce the impact of the local regulation, which seems to be always negative, on their business. And in the tech hubs across the country, most of the conversations are now around how to incorporate as a US company.
Victor Amusan, co-founder of Healthtracka, explained that the easy access to a more supportive ecosystem, investors' worries over unmitigated exposure to local regulatory risks and the startup visa programs by many developed countries are the compelling reasons many tech startups are incorporating outside Africa. According to Victor, "There are a lot of talents that are difficult to find within Africa [for example] system architects, blockchain engineers and data scientists who have hands-on experience.
Also, incorporating in US, Canada, Germany, Australia gives one access to grants, cheap cloud infrastructure and a supportive ecosystem."
Patricia, a fintech firm impacted by the negative regulatory environment and a big sponsor of the Big Brother Nigeria show, had to relocate to Estonia as a way to de-risk its business. The founder, Hanu Agbodje, told Punch reporters that, "What originally came as disastrous news turned out to be the cornerstone we needed for this worldwide expansion. The forced expansion will strengthen Patricia's relationships with marketers and agencies in the global crypto markets, whilst positioning it for leadership in Nigeria and Africa."
This is fast becoming the standard business practice for tech startups, the existing ones are re-incorporating outside Africa and the new ones just do not bother to start as a local firm.
The strategy is to set up outside Africa and have subsidiaries in Africa. For the founders it is the only way to survive but for the continent it means the benefits from the promised growth and future dominance of these innovative companies will accrue to the countries they are registered in. Once again, our leaders are slaving away our youth and future to foreign countries and, this time, not for mirrors nor whiskey nor any obvious gain.