With the persistent humanitarian challenges, caused by political instability, terrorism and poor governance, experts have expressed concerns about the need to seek innovative ways of raising funds for the activities of Civil Society Organisations (CSOs) in parts of Africa.
READ ALSO: CSOs Seek Concerted Efforts To Restore Civic Engagements Amid Political Crises In W'Africa
CSOs, according to the experts, play a vital role in every society by providing humanitarian assistance to the citizens, advocacy, holding governments accountable, and promoting democracy, hence the need for more sustainable funding.
While some highlighted the need to evolve new strategic indigenous sources in what they described as "local community philanthropy," others called on foreign development partners and donor agencies to still identify with local NGOs and offer them funding to execute social impact programmes.
This was the outcome of a plenary session of CSO experts held during the just concluded West Africa Civil Society Week (WACSI'23) in Lagos.
Speaking on the theme: "Shrinking Civic Space in West Africa: Perspectives from Stakeholders, and Development Partners," Ms Amina Salihu, Senior Programme Officer, MacArthur Foundation, Nigeria noted that development and democracy go together and that given what is happening today across Africa, there is a need to strengthen the pillars of democracy.
Ms Salihu stressed that to expand the civic space, CSO stakeholders in the continent need to have a good understanding of the system and also adopt intra and inter-agency collaboration.
She also pointed out that CSOs need to set an agenda on work to be done and also challenged the stakeholders to promote accountability, through open communication of budget issues to all members of the organisation.
Mr Charles Abani, United Nations Resident Coordinator, Ghana, said the UN recognises the principles of partnership as enshrined in the Sustainable Development Goal (SDG 17) which CSOs should be essential partners.
Mr Abani, who concurred that civic space has indeed shrunk in Africa, said that working with CSOs is very important for transparency and accountability.
On the challenges of CSOs in the continent, Mr Abani said those in low-income countries encounter dwindling finance due to microeconomic challenges, and constraints of capacity.
He further observed that CSOs have become polarised in some countries where on one part some groups are working to hold the government accountable, while on the other side are groups that have become weaponised as instruments of endorsing electoral irregularities by the state.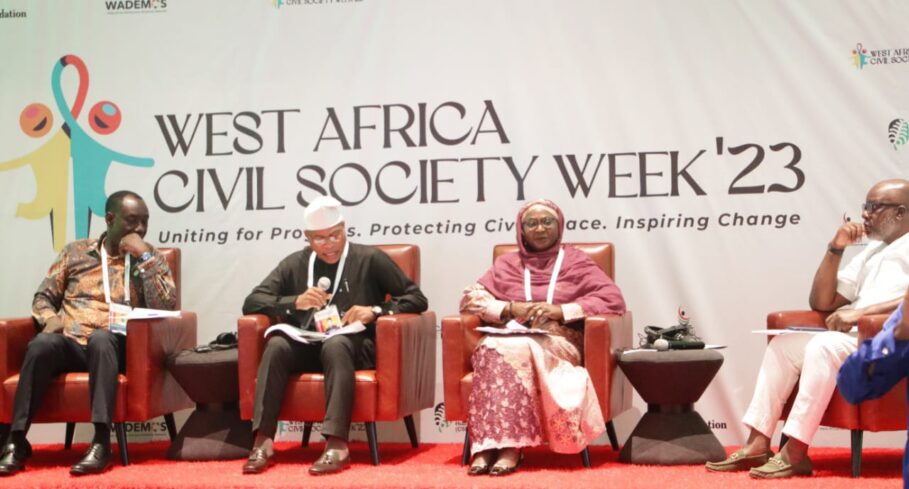 The diplomat emphasised that CSOs should build "pragmatic relationships" with private sector players while leveraging social media capabilities. He also highlighted the need for young people to come into CSO activities.
Prof Charles Ukeje of the International Relations Department, Obafemi Awolowo University Ile Ife, Nigeria, harped on boosting inclusivity in CSO activities. He also re-echoed the need for strong collaboration among organisations and called on development partners to see the need for continued funding of social impact projects in African communities.
Prof. Ukeje also called for the building of capacities of younger ones in social change projects.
Also, speaking, Auwal Musa Ibrahim Rafsanjani, Executive Director, Civil Society Legislative Advocacy Centre (CISLAC), called on development partners to support credible local NGOs in Africa.
Reacting to some of the submissions made by the panelists, Regional Director, Ford Foundation West Africa, Dr Chichi Aniagolu-Okoye, said that looking at the reality of Africa today, it has become imperative to find alternative sources of funding for local NGOs rather than continuing to relying on foreign donors which are dwindling.