With the rising political tension coupled with economic hardship, gender inequality, and insecurity in parts of Africa, civil society stakeholders have called for a concerted effort to strengthen civic engagement for good governance and sustainable development.
They observed that the third sector which supports democracy, human rights, and social welfare, faces threats in West Africa as a result of the political crises that follow military incursion into politics, with Mali, Burkina Faso, Chad, Sudan and recently Niger as examples.
In her welcome remarks at the West Africa Civil Society Week 2023, the Ford Foundation West Africa Regional Director, Dr Chichi Aniagolu-Okoye, observed that the West Africa region is at the "Crossroads" due to political crisis and the menace of insecurity. She stated that democracy is not only under threat in countries experiencing military coups but also in those that still have civil rule but unfortunately run in a dictatorial manner and deny the citizens the dividends of democracy.
"Civil society is always at the receiving end of dictatorships, whether it is military or civilian, it is therefore important for us to seriously consider and deliberate on the future of civil society, going forward, regardless of political, religious, and whatever else affiliations we may have because when we die, we die together. Dictators unfortunately don't really care about their supporters they only care about what will keep them in power," she stated.
The Ford Foundation West Africa Regional Director further observed that the West African region is not only plagued by a lack of democracy but also poverty, economic challenges, lack of education, gender inequality and food insecurity among others, which have made many communities become reliant on civil society "to bridge the gap where government is failing."
Dr Aniagolu-Okoye pointed out that civil society groups are also struggling with dwindling financial resources as "donor countries are also experiencing a fatigue from not seeing the kind of results that they're expecting after decades of support to the region; so, this is really an important time to have this gathering."
With the threats faced by civil society organisations in the region including funding, she emphasized the need to seek innovative ways of dealing with the challenges. " For civil society to survive things that to be done slightly differently. We need to understand and interrogate the new threats that we face in the region to deal with them."
She highlighted the role of Ford Foundation in supporting the civil society sector in West Africa, adding that it was the only organisation that remained physically present in Nigeria throughout the years of the Abacha military regime.
"That commitment has led to our supporting almost every civil society organization that is worth it salt today in Nigeria Ghana and Senegal, as well as supporting critical issues that have happened in the region.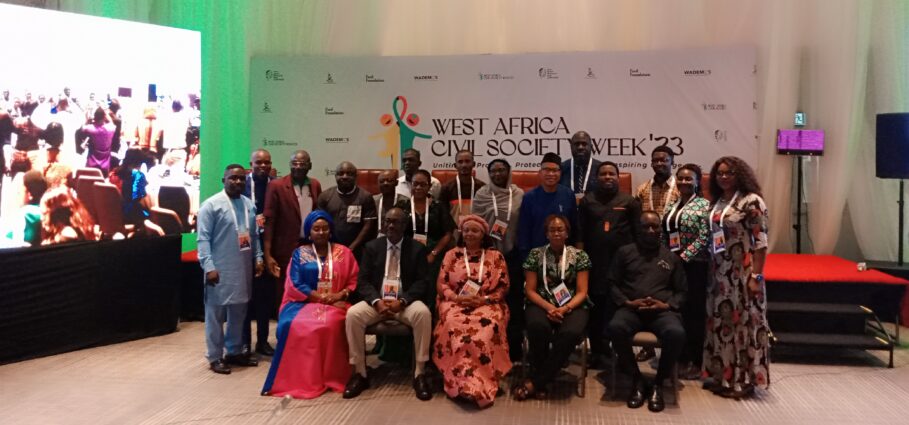 The maiden edition of the West Africa Civil Society Week 2023 is hosted by the West Africa Civil Society Institute (WACSI) and Spaces for Change (S4C) in partnership with the Ford Foundation and the West Africa Democracy Solidarity Network (WADEMOS).  The event with the theme: "Civil Society in West Africa: Reimagining the Role of the Third Sector in Protecting Civic Space and Consolidating Democracy for Regional Development, is from 29 August to 31, 2023.
Earlier in her address, the Executive Director of WASCI, Ms. Nana Afadzinu, noted with concern the impact of the fresh wave of unconstitutional change of government, terrorist threats, resource constraints, and waning support for civil society in West Africa. She warned that if not properly addressed, could plunge the region into war.
Re-echoing the fact that civil society advocates sustainable development through pushing for good governance, transparency and accountability, inclusivity, social justice, and gender equality, Ms Nana lamented that it is under major threats in the region.
"To be very clear, we want democracy and good governance; we oppose coup d'états and prefer constitutional rule and good electoral governance- those are our principles and we have stood for and fought for them but even more fundamentally, we being West Africans ourselves, stand for, and stand with the people- for our peace, security, prosperity and collective well-being.
She said there is a dire need to build solidarity and restore the civic space that belongs to the peoples of West Africa to enable the sustainable development that they desperately need.
She called on the Economic Community of Wes African States (ECOWAS) which according to her, seems less responsive in the emerging political crisis, to rise to its mandate of regional economic and defence cooperation.
WASCI Executive Director averred that the three-day event would also afford the participating CSOs the opportunity "for deep reflection, honest and bold discussions; sharing and also learning ways to strengthen our solidarity."