The United Nations' World Food Program (WFP) has said it is working with the government of Zimbabwe to provide food relief package worth $40 million starting from October, to Zimbabweans that are on the brink of starvation.
Food crisis was said to have been caused by the current war in Ukraine which has halted export of agricultural products, coupled with low rainfall in the East African the country that has reduced the annual output of the harvest season.
Speaking with Reuters, the WFP representative in Zimbabwe, Franscesca Erldelmann said "I do not think this is a famine as yet, but that does not mean that it is good. We are preparing for a response that will take off in October up to March. We are working with government on a joint plan for the food deficit mitigation program and that is for 700,000 people."
The government of Zimbabwe had earlier this year predicted that white maize, which is a staple food in the country, is going to reduce in supply by almost half due to low rainfall but the government still has some grains from last bountiful harvest.
"Cabinet takes this opportunity to reassure the nation that, despite the decline in production owing to the vagaries of the weather, there is, however, enough maize in stock," the government said.
Maize production reduced during the 2021/2022 season from 2.72 million tons to about 1.56 million tons, threatening starvation for about 3.8 million Zimbabweans.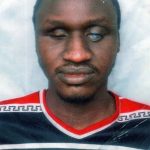 John Adoyi, PBA Journalism Mentee