President of Ukraine, Volodymyr Zelensky has relieved the heads of all of Ukraine's military recruitment centres over corruption charges as the conflict in Ukraine rages on.
President Zelensky revealed that a total of 112 cases were opened for investigations after allegations were brought up by persons who alleged that the military heads were enriching themselves and pertaking in other criminal activities in recruitment centres across the country.
The announcement was made after a meeting with the President and other top Ukrainian generals.
"We are dismissing all regional military commissars," Zelensky said on his social media handles.
"This system should be run by people who know exactly what war is and why cynicism and bribery at a time of war is high treason," he added.
Since February 2022 when Russia began the invasion of Ukraine, some generals of the formal Soviet Union country have been either prosecuted or sacked over their roles in scandals that have undermined Ukraine's bid to force out Russian army from its soil. Media reports claimed that Yevhen Borysov, the head of the Odesa recruitment centre was sent for investigation after it was discovered that his family bought property worth $4.5 Million Dollar in Spain in 2022. Ukraine's Bureau of Investigation (DBR), on August 4 revealed that the head of the Donetsk military recruitment office had been charged with illegal payments to his subordinates and helping criminals escape justice. Ukraine's Ministry of Interior reported that a military officer in Zakarpattia was being investigated for forcing Soldiers to build his house and acquiring Russia's state symbol.
Another officer, the head of the Rivne recruitment centre was arrested by the Bureau of Investigation for physical abuse on Soldiers and for being in possession of illegal substances. These generals and many more, prompted the nationwide investigation that led to the sacking of the heads.
Zelensky Said the officers that were not found guilty should go to the war front but warned that the army is not a place for criminals.
"Dismissed military enlistment offices heads and other officials who have epaulets and for whom no data on crimes or violations have been found (can go) to the front if they want to keep epaulets and prove their dignity," Zelensky said.
"But let me emphasize: the army is not and never will be a substitute for criminal punishment. Officials who confused epaulets and benefits will definitely be brought to trial."
He added that the dismissed officers would be replaced by war veterans after they have been inspected by Ukraine's security agency.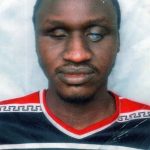 John Adoyi, PBA Journalism Mentee