The authorities in Uganda have placed citizens on high alert as confirmed cases of the Sudan string of the Ebola Virus Disease outbreak has risen to seven with one death recorded as at today.
The government also announced contact tracing of 43 people who have come in contact with the infected people so far.
Kyobe Henry Bbosa, Ebola incident commander at the Ugandan Ministry of Health, told journalist on Thursday that "As of today, we have seven confirmed cases, one confirmed Ebola death and seven probable (Ebola) deaths. We have listed 43 contacts (of the victims) and we are doing contact tracing," he said.
The health ministry in Uganda and the World Health Organisation declared the outbreak of the Sudan string on Tuesday after The Uganda Virus Research Institute confirmed the case after testing a sample taken from a 24-year-old man who was first treated for malaria but started showing signs of the contagious disease by vomiting and constant diarrhea.
The epicentre of the outbreak is the central Ugandan district of Mubende where residents have talked about people including three children dying from a strange illness earlier.
Dr. Bbosa, the Ebola incident commander at the Uganda health Ministry had confirmed that the Sudan variant has no vaccine but "there are trial drugs using the monoclonal antibody technology."
Noting that "largely, the treatment is mainly on supportive care. This strain has no vaccine and for now, the plan for the vaccine is not on the table but it is being considered as soon as we have some."
Dr. Bbosa also said the plan for now is to urge citizens to be conscious and provide necessary information to the government to limit the spread of the virus.
"For now we are concentrated on making sure we inform the population about what it is, guiding them on the measures to be able to protect themselves and guiding them to show us where contacts are –identify them to be able to get patients early care."
There have been seven outbreaks of the Sudan variant of the virus. Four in Uganda and three in Sudan. The last outbreak in Uganda was in 2012.
Ebola, which is spread by contact with the bodily fluids of an infected person or contaminated materials, manifests as a deadly hemorrhagic fever. Symptoms include fever, vomiting, diarrhea, muscle pain and at times internal and external bleeding.
It has six different species, three of which (Bundibugyo, Sudan and Zaire) have previously caused large outbreaks.
Fast treatment for EVD include Providing fluids and electrolytes (body salts), Using medication to support blood pressure, reduce vomiting and diarrhea, and to manage fever and pain. Treating other infections, if they occur.
Proper hand washing, using of sanitizers and staying away from bush meat with unknown death, reporting suspicious illnesses to the health authorities can limit the spread of the virus.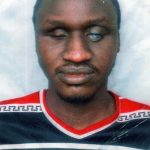 John Adoyi, PBA Journalism Mentee