A cuckoo in the nest is an expression that describes an unwelcome situation. This delineates the position of the presidential candidate of the All Progressive Congress (APC) for the 2023 general elections, Bola Ahmed Tinubu, a man who has decided to go against the unspoken status quo of the Nigeria's presidential race by picking a Muslim running mate in the person of Kabiru Masari from Katsina state.
This has given analysts from all spheres of life sleepless nights of discussions and permutations for a plausible outcome of alleged political disaster.
Though it has been rumored by party faithful that Kabiru Masari, was just a placeholder, Tinubu, talking at both sides of his mouth said he has picked his running mate for the election and he does not understand what they mean by placeholder.
Speaking at the birthday party of the speaker house of assembly, Femi Gbajabiamila, after showering praises on the speaker and his deputy, he said "Thank you for both of you, you've not rocked the boat. I will need to learn from both of you, how you made the pair work because I'm still searching for my running mate."
For someone who cannot decide a running mate, then we are in for a long haul when it comes to cabinet members.
Picking a Muslim as his vice would be an atrocious move by the candidate. The country right now is at a volatile state that little skirmishes could be disastrous.
Christian Association of Nigeria, some Northern groups, civil societies and so many organisations have warned against a Muslim-muslim ticket but their warnings appear to have fallen on deaf ears.
Ethnic problems, religious intolerance, unprovoked killings of Christians by alleged rogue Muslims dominate front pages of newspapers and news bulletins of broadcast media on a daily basis.
Not too long ago, a church was attacked and many parishioners were killed, this happened while we were still mourning Deborah Yakubu, and now, two Catholic Priests have just been gunned down by the infamous 'unknown gunmen' in Edo and Kaduna States.
This and many more have made people say a muslim-muslim ticket or a Christian-Christian ticket would be a bad omen that could create more friction in the country.
Lame excuses have been put forward by some politicians with varied interests in the election outcome.
Orji Uzo Kalu, the chief-whip of the Senate said "If I am in Ahmed Bola Tinubu's position, the wife is a pastor in a Pentecostal Church. I will go for a Muslim-Muslim ticket. The most important thing is for the party to win. We should stop this rubbish about religion.Though he said it is his opinion and nobody can stop him from making his opinion.
Others backing the Muslim-muslim ticket are giving excuses of 1984 and 1993 where Buhari a Muslim and Abiola also a Muslim picked Idiagbon and Kingibe also Muslims, as running mates respectively.
Others are giving the excuses because of political interests.
Northwest has the bulk of the votes from the north with Kano State having a large chunk of that.
Seven states of over ten million votes would be diamond for any candidate. Predicting an Obi-Kwankwaso merger, Tinubu does not want to take chances, he decided to pick a Muslim from northwest to keep the hope alive and strong.
It is now like day to Nigerians that politicians do not care about the health and welfare of the country. Their pockets and that of their friends is what only matters to them.
A muslim-muslim is being rejected so that the little peace in the country can be maintained and Kalu is talking about Tinubu's wife being a Pastor as if she is the vice-president of the country. The last time I checked, she will be the first lady not vice president.
Fifteen years ago, this wouldn't have been a bone of contention because the country wasn't on a path of self-destruction.
The economy wasn't this malnourished and there was no Boko-haram insurgency.
But right now, it is very important so that no religion should feel left out or relegated.
The governor of Kaduna State,, El Rufai is talking of competence and saying: heaven did not fall when he picked a Muslim like him as deputy. He has forgotten the incessant blood baths in southern Kaduna that at a point, he wanted to bring machinery to combat the demons ravaging the state.
I agree that a competent and well qualified candidate should run for the presidency.
The country needs saving and any mistake of rotten eggs in 2023, would be grievous.
We need technocrats and well–informed leaders of no religious or ethnic bias to superintend the sinking ship to safety.
No matter who wins, all hands need to be on deck, no matter your affiliation or selfish interest. if not, there might be no country to run your election if the ocean boils over.
Still, a Muslim-Muslim ticket will not go down well with Christians and vise vasa.
So, APC and Tinubu should stick to the status quo since 1999 and let this case rest.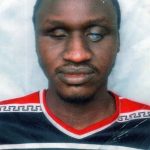 John Adoyi, PBA Journalism Mentee