The Global Fund to fight AIDS, tuberculosis and malaria which was put aside due to the ravaging COVID-19 pandemic has been set on course by world leaders.
The discussion resurfaced  at the sidelines of  the 77th United Nation General assembly in New York City as world leaders pledge $14 billion to continue the fight.
United States President Joe Biden who hosted the leaders for the pledge said the funding would be very crucial in combating the deadly diseases which have claimed many lives.
"This is an investment that will save another 20 million lives, reduce mortality from these diseases another 64% in the next four years," Biden said.
The United States had earlier pledged 6 billion for the next 3-year activities of the global funding.
The Global Fund is a worldwide initiative based in Geneva Switzerland to eradicate HIV, TB and malaria through funding and strengthening health system around the world.
They have been in existence since 2002 and raise $4billion every year to combat these diseases.
Dr. Donald Kaberuka, the board Chairman of the Global Fund started the conference saying "The world has demonstrated that HIV, malaria and TB can be conquered by science, leadership and a critical mass of resources. We have reason to celebrate. But the job is not yet done. COVID-19 has been a setback, a critical setback, but we must continue to aim for 2030 elimination. This is the time to double down."
READ ALSO: Monkeypox: US Decries 'Fabrications', Denies Alleged Role In Disease Spread
According to the Global Fund, Top world countries increased their pledges by 30 percent and the United Kingdom which is the third largest donor of the Fund pledged to continue supporting the Global Fund and announce their pledge on a later date.
Countries like Canada, Japan, Germany all increased funding by 30 percent while African countries like Nigeria, Kenya and Malawi pledged $13.2 million $10 million and $1 million respectively.
European Commission chief Ursula von der Leyen who pledged 715 million euros ($703.63 million) on behalf of the commission said "We can cure tuberculosis. We can prevent malaria. We can fight these terrible diseases. We will end AIDS, we will end tuberculosis, and we will end malaria – once and for all."
Thanking world leaders for their generosity towards health, especially in fight against AIDS, TB and malaria, Global Fund Executive Director Peter Sands said "At a moment when the world is confronted by acute economic and political challenge and climate-driven disasters, President Joe Biden delivered an unparalleled mobilization of resources for global health," he said
"We are extremely grateful for the generosity of everyone who has committed to support our partnership. With the intersection of so many global crises, our donors understand that it is more important than ever to stop these deadly diseases and protect everyone, regardless of who they are or where they live, from these and future health threats."
The Global Fund said the funding might increase from the $14 billion, as more donations come in,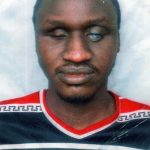 John Adoyi, PBA Journalism Mentee