If you've not heard of 'Wednesday', the Tim Burton–helmed Addams Family spinoff Netflix's new hit series, it is assumed you live under a rock. 'Wednesday' is an American supernatural comedy horror television series, based on the character Wednesday Addams, from The Addams Family. It is what I like to term, a multi genre series.
READ ALSO: 'Black Panther: Wakanda Forever' – Echoes From 2018 Blockbuster

It stars Jenna Ortega as the lead character, with Catherine Zeta-Jones, Luis Guzmán, Isaac Ordonez, Gwendoline Christie, Riki Lindhome, Jamie McShane, Fred Armisen, and Christina Ricci appearing in supporting roles. Four out of the eight episodes are directed by Tim Burton, who also serves as executive producer. It revolves around the titular character, who attempts to solve a monster mystery at her school.

Wednesday, has captured the record for the most hours viewed in a week for an English-language series on Netflix. The show has been acclaimed by the audience and some critics, like longtime lovers of the creepy, kooky, mysterious, and vocal fans of the lead star, Jenna Ortega alike.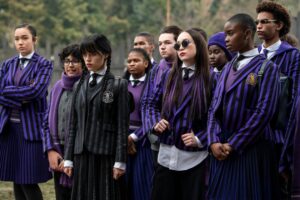 SPOILER ALERT

Plot Summary

What I loved most about Wednesday, was the conscious decision to move away from the regular movie remakes. Giving the lead character, "Wednesday" a purpose beyond being dark and gloomy, with a chip on her shoulder gives even the most hardcore fan a reason to tune in to see what she'll do next on her mission to get out of Nevermore Academy.

Making Wednesday a sleuth, just like all the other shows you can think of starring snarky teens, but somehow it works here, even though it would have made much more sense to keep Miss Addams with her family as we do end up missing that dynamic a bit. Still, there's a whole new world to explore at Nevermore with strange new characters you won't be able to figure out right away. That element of the unknown already elevates the series into something more promising.

Final Thoughts

The first episode was an exciting beginning to Wednesday's adventures, however, what excited me the most, was the branch out of Jenna Ortega's Wednesday. She stays true to the moodiness and broodiness of the character but also branches exceptionally far into her own version.

We clearly see a bit of caring and sympathy in her personality, from her sibling-driven vendetta against the water polo team to trying to save Rowan from his death.

The creators, Alfred Gough and Miles Millar, were really not just about words when they said, Wednesday is not a reboot, they called it a "re-imagination".
Bisina Somto, PBA Journalism Mentee