Anglo-Nigerian two-time heavyweight champion, Anthony Joshua knocked out Robert Helenius with a brutal right cross in the seventh round of their heavyweight fight late on Saturday night at the O2 Arena, London.
The beginning of the fight was pedestrian but gradually became swift as Joshua began to assert himself with a reminder of his punching power.
Finnish boxer, Helenius was a late replacement opponent for the 2012 Olympics gold medallist for Britain.
The crowd began to jeer and whistle the less than impressive action in round three and Joshua landed a devastating blow which at least elicited an encouraging roar.
Joshua also began to snap out the job without causing the giant Finn any distress.
Both boxers raised the tempo a little in the fourth round and Joshua landed punches with enough spite to cause blood to trickle from Helenius's nose.
Early in the fifth, Joshua connected with a thudding right, and then a left, which put a little dent in Helenius.
His jab peppered the reddened face of his opponent who still looked alert and aware that Joshua seemed far from the formidable force he had once been. And then, suddenly, the end came with shuddering force.
The duel was settled in the seventh round when Joshua produced a technical knockout with his right fist that brutally fell Helenius to the ground.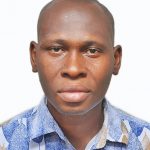 Izuchukwu Okosi is a Nigerian sports and entertainment journalist with two decades of experience in the media industry having begun his media journey in 2002 as an intern at Mundial Sports International (MSI) and Africa Independent Television (AIT), owners of Daar Communications Plc.
In October 2004, Okosi joined Complete Communications Limited, publishers of Complete Sports newspaper and Complete Football magazine as a reporter and later script writer for the Complete Sports studio.
He worked there for 13 years until October 2017.
Okosi also worked various times as Correspondent, Content creator and Editor at Sports Market International Magazine, Opera News, All Nigeria Soccer Media and Iconic Media Watch.
He also undertook freelance writing gigs for some local and international organizations.
Okosi is a member of the Actors Guild of Nigeria (AGN), Association of Movie Producers (AMP), Association of Voiceover Artistes of Nigeria (AVOA), Sports Writers Association of Nigeria (SWAN) and Nigeria Union of Journalists (NUJ).
He has been part of cast in some Nollywood movies and radio dramas including Blood Money 2, Scores To Settle, Dead End 2, Another Campus Tale and Battle Line.
Aside mainstream media and the entertainment industry, he has interests in scouting/unearthing of talents in the sports and creative sectors, exports business and property development.