The Gambia Vice President, Badara Alieu Joof, died in India following a brief illness.

Breaking the news on Wednesday on his Twitter handle, president of The Gambia, Adama Barrow, said "Fellow #Gambians, it is with a heavy heart that I announce the passing away of my #Vice-president, His Excellency, Badara Alieu Joof. The sad event took place in India after a short illness. May Allah grant him Jannahtul Firdawsi," President Barrow tweeted.
The cause of his death has not been disclosed.
Vice President Alieu Joof went to India about three weeks ago for treatment.
Until his death, he was the Vice president of The Gambia and was appointed in 2022 at age 65.
Alieu Joof previously served as Minister for Higher Education, Research, Science and Technology in the West African country from February 2017 to May 2022.
The Gambia is a small English-speaking country in mainland Africa regionally located in the west with a population of about 1.8  million as of the April 2013 census.  
The country gained independence from the British government in 1965.
Support Investigative Journalism and Mentorship
Courageous Journalism of Truth,Transparency and Development is in the DNA of Prime Business Africa; By donating as little as N1000 or $1 today, you are helping to keep credible journalism and life-changing information free for all.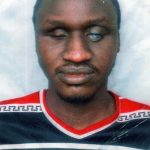 John Adoyi, PBA Journalism Mentee