Nigerian artiste and philanthropist, David Adeleke aka Davido who is popular for his phrase and action word 'We Rise By Lifting Others' has once again backed up his words with action.
A few days ago, this poster was going round on social media as news of a boy who got all A's in his WAEC exams but has been sitting at home due to lack of funds to further his education into the university.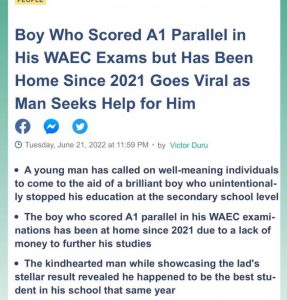 Davido made a tweet with the flyer as a post and asked Nigerians to find the boy for him. A day after, Davido was able to locate him and rewarded the boy's hardwork with a full scholarship to the Adeleke University, a school owned by his father, Mr Adedeji Adeleke, accommodation and allows included.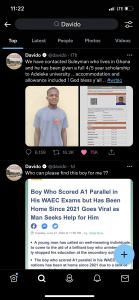 In the Adeleke's camp, it's no doubt that they'd always offer a helping hand!
Support Investigative Journalism and Mentorship