Development or growth cannot take place in a country ravaged by insecurity. Nigeria is at the stage where the general feeling is that nothing seems moving, with the citizens groaning over worsening poverty situation and criminal elements constantly baying for blood of the innocents.
It is so alarming that countries are beginning to issue travel advice to their citizens in Nigeria.
In 2019, Nigeria was ranked third below Afghanistan and Iraq out of 138 countries in the Global Terrorism Index and is said to be the 14th most fragile in the world and the 9th in Africa, according to the Fragile States Index. In the same year the country was also ranked 148th out of 163 countries in the Global Peace Index, far below former war-ravaged countries like Sierra Leone (52), Liberia (59) and Rwanda (79).
READ ALSO: Top Three Presidential Contenders In 2023 And Yearnings Of Nigerians
In few months, Nigerians would be going to the polls to elect a president. The political landscape has seen the emergence of top three presidential candidates: Bola Ahmed Tinubu of the All Progressive Congress (APC), Peter Obi in Labour Party and Atiku Abubakar for People's Democratic Party (PDP). To vie for the votes of Nigerians. Insecurity would be the bone of contention.
What have the candidates said so far about tackling insecurity?
Peter Obi
Peter Obi who is the presidential candidate of Labour Party has been very vocal of the security situation in the country. He has always said Nigeria needs a leader that can stir the ship of the country in the right direction because failed government is responsible for chaos and insecurity.
At various fora, Peter Obi has put forward two ways he would tackle insecurity.
Speaking on the BBC, Obi said, "Our commitment is to deal with insecurity decisively in two ways. The first is to pull people out of poverty. The more you pull people out of poverty, the more you reduce criminality.
"Secondly, to provide adequate measure for security agencies to effectively do their works and we will make sure they do their work."
Atiku Abubakar
Atiku Abubakar, a two-time presidential candidate of the PDP equally disclosed his plans for tackling the issue of insecurity. In a media parley, Atiku harped on the need to end the culture of impunity which according to him, fuels the security crisis. He equally spoke about improving social welfare packages of security officers across agencies; also increasing their number and re-equipping them.
He said, "The key to ending these spate of attacks on our military formations, from the point of view of civil authority, is to end impunity. These killings keep recurring because previous killings have not been punished. We need to go beyond the rhetoric of mouthing that those behind these killings will face the full wrath of the law.
"The fact remains that those behind such previous killings have not been dealt with. That is why these killings keep happening, and even as we speak, these belligerents are likely planning future killings. So, we must end impunity. That is one.
"Secondly, from a military standpoint, I am of the view that the president should not talk at the military. Quite the opposite. The holder of that office has to listen to them. They know their strengths and weaknesses. They know better than anyone the threats facing Nigeria. They know where the shoe pinches."
Atiku said, if elected president next year, "I intend to listen to them and provide them with everything they need. To that end, our soldiers have to be motivated. And I am not just talking about their wages. They have to know that their lives are important to their Commander-in-Chief.
"Under my watch, such losses of lives will be minimal. However, where even one soldier is killed, it is the duty of the C-in-C to personally empathise with their families, so, those left behind are motivated, because they see that their service to the nation matters.
"If you join the military, you should have financial and social security. At the barest minimum, if you die in service, then your family becomes the responsibility of the federal government."
The PDP presidential flag bearer, further observed that "Every part of this country is dealing with one aspect of insecurity or the other, I will be very tough on law and order.
"I will increase the number of policemen in this country. I will equip them, I will also increase the number of the armed forces, equip them very well, just like we did from 1999 to 2015.
Bola Tinubu
Tinubu who is the presidential candidate of the APC has had his own say in matters concerning insecurity.
He has not put out a definite plan to tackle insecurity, but has supported the clamour for state police.
Tinubu had said "The time has come to take the necessary legal actions to allow for the creation of state police and the recruitment and training of many more police officers. Such state-created forces should be based on the modern tenets of community policing and optimal relations and cooperation with local communities. Measures such as these are needed to cure present gaps in how military and law enforcement treat the general public."
His plans for insecurity has been based on improving the economy and infrastructure and building a home for all Nigerians.
"I come to you with a coherent vision on how to improve our nation, such that our schools, industry, agriculture, and infrastructure will become the pride of all.
"Ours shall be a land where all Nigerians will have equal chance and no one is excluded because of his ethnic background, religious creed, place of origin, or social status, we are all Nigerians.
The manifesto of these candidates would throw more light on how they plan to tackle insecurity.
John Adoyi is a Prime Business Africa Journalism Mentee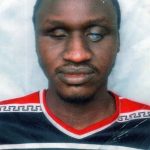 John Adoyi, PBA Journalism Mentee