Saturday's governorship and State Assembly elections in Nigeria witnessed low turnout of voters in many states while violence was orchestrated by armed thugs ostensibly hired by political actors who are desperate to win.
In Lagos, reports are rife with hoodlums invading polling units, attacking voters, and destroying election materials.
Thugs in large numbers invaded Adejare Polling Unit in Ilasa, Oshodi/Isolo Local Government Area of Lagos State, and dispersed voters who were waiting to cast their vote.
In Lekki, some polling units precisely in the Ajiran area of Agungi, Eti-Osa Local Government Area, were attacked by hoodlums, who snatched ballot boxes.
An eyewitness said the attack drastically affected the turnout of voters as people were afraid of being attacked and maimed.
A resident of the area who did not want to be named said some thugs loyal to the All Progressives Congress (APC) threatened to deal with people who were not voting for the party. He said while some people were beaten, others who are of a certain ethnic group and therefore perceived not to be voting in favour of  their party were chased away.
In Ajao Estate, Isolo Lagos, thugs were actively beating up voters and asking them to go home since they are not from Lagos. Also at a polling unit at Chivita avenue in Ajao Estate Isolo, Lagos, there was a fight as hoodlums threatened and were chasing people away, asking them to go home or go back to their states if they were not voting for a  particular political party.
The story is not different in polling unit 003 in Bestford/Ganiyu Yusuff Street, Oke-Afa, Ejigbo in Lagos, where thugs damaged several thumb-printed papers while attempting to snatch the ballot box.
Videos that emerged online showed shreds of ballot papers littered in the area and damaged chairs, tables, and other electoral materials apparently used by INEC officials.
The thugs were also said to have attempted to seize the BVAS machine but were resisted by some residents, and the Nigerian Army officials who arrived the scene in the nick of time.
In the Okota area of Lagos, voting for the governorship and State Assembly elections has been disrupted by thugs who invaded Polling Unit 008, Taiwo Street, Ago Palace Way.
Some reports have it that a man suspected to be one of the thugs that invaded the polling unit was shot dead by security operatives who were trying to prevent him from running away with election materials. Just like what happened in Oke-Afa area of Ejigbo LGA, while attempts by the thugs to cart away the election materials were successfully resisted by the residents, they reportedly succeeded in destroying all the ballot papers meant for the exercise in the polling unit.
Police operatives who arrived in the area shortly after the attack were blocked from living by the residents, who also demanded that INEC officials must replace the ballot papers destroyed by the thugs with new ones to enable them cast their votes.
READ ALSO: 23 Violence Hot Spots In Nigeria's Guber Elections – Nextier
Many voters reportedly didn't come out to vote at polling units in many areas of Sabo after Alaba International market, Igbolerin, and Casidi, Ojo Local Government Area of Lagos, as thugs harassed people from going out to vote.
It was gathered that threats by the thugs early Saturday morning prevented many residents from coming out to vote.
A source said polling agents of the Labour Party, were chased away from most of the polling units in the area. He said one LP polling agent was beaten to a pulp for resisting them.
He said these happened despite the presence of police officials, adding that people only feel safe to come out if soldiers were around. According to him, only soldiers were preventing thugs from unleashing their mayhem on the people parts of the state.
Also in Aguda, Surulere area of Lagos, an INEC official was seen in a video circulating online openly saying they were not going to upload the result of the polling unit after voting ended. The fair-complexioned lady was seen pacing around telling voters to go home if they don't want to vote under such a condition. She was also heard saying that political party agents were aware of the arrangement.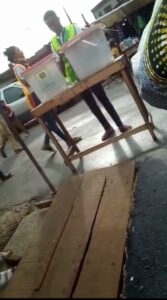 Prime Business Africa reports that there were other cases of violence, voter suppression, and intimidation recorded in several parts of the state with claims that people of South-East origin were being targeted.
"Thugs were taking away the ballot boxes before counting in Ijesha, including my polling unit," says Lagos-based medical practitioner, who gave his name simply as Godwin.
In Delta, there are reports of invasion of some polling units in Evwerni, in Ughelli North Local Government Area of the State by thugs.
They reportedly destroyed election materials including the Bimodal Voter Accreditation system (BVAS), leading abrupt end of voting in the area.
READ ALSO: Violence Disrupts Election In Delta As Thugs Destroy BVAS Machine

Why Gubernatorial Election Recorded Voter Apathy – Peter Obi
Commenting on the outlook of the election, the presidential Candidate of the Labour Party, Mr Peter Obi, said he observed voter apathy and "transactional politics" unlike the February 25 presidential polls.
Obi, who spoke after voting at his Amatutu polling unit in Agulu, Anaocha Local Government Area of Anambra State, expressed worry that voters did not come out en mass to exercise their franchise.
Obi, who voted with his wife Margaret at about 11:20 am, said the reason for the low turnout was that people felt disenchanted that the last poll did not reflect their wishes.
He took to his Twitter handle and wrote: "I exercised my franchise by casting my vote in my polling unit. My dear wife Margaret also voted. I encourage every registered Nigerian voter, who has not yet voted to go and do so".  He further said," Our votes must count in order for Nigeria's democracy to flourish."
An Awka resident, Victor Ozomenam, who spoke with Prime Business Africa, said there was low voter turnout in parts of the metropolis.
He said that even with the low turnout, there were cases of vote-buying. He said people didn't come out in large because they are not happy with what happened on 25th February and felt their votes won't count. He our correspondent that traders in some markets in the state capital opened for business while the election was going on.
Armed Thugs Invade Polling Units In Enugu, As APGA Guber Candidate Accuse Security officials of Compromise
In Enugu, the story of electoral irregularities also frittered the space, as armed thugs reportedly invaded some polling units and disrupted voting.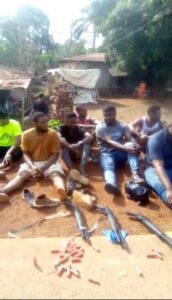 The governorship candidate of the All Progressives Grand Alliance (APGA), Frank Nweke Jr, alleged that some security officials in polling units in some parts of Nsukka were compromised to work in favour of the ruling Peoples Democratic Party in the state.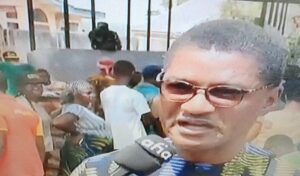 Nweke in a live interview with Arise News on Saturday after voting in Enugu, said such happened despite clear orders by the military authorities that security operatives should remain neutral in the electoral process.
Nweke said that there were cases of voter intimidation as people were beaten up by compromised security officials and one individual escaped being killed.
Some armed thugs, who reportedly invaded some polling units, were arrested by a joint team of military, police and civil defence officers at Isi-Uzo Local Government of the state.
A Video online showed young men numbering about 15, who were arrested by security officers in Ikem area of the LGA. Five pump action rifles and live cartridges apparently recovered from the suspects were displayed in front of them.
Imo police rescue 19 abducted INEC Ad Hoc Staff
Parts of Imo State were not left out of the crises that greeted elections across the nation.
Nineteen INEC Ad-Hoc staff were kidnapped by hoodlums but were fortunately rescued by the police.
According to officials, the 19 INEC Ad-Hoc staff were on their way to seven different polling units in Ugbelie ward 06 in Ideato South LGA of Imo state when they were abducted.
INEC spokesperson, Chinenye Chijioke-Osuji, said the rescue operation took place after a distress call and information about the incident was made to the operatives who immediately swung into action.
She added that even though they were rescued, all the election materials which include BVAS and sensitive materials were not recovered.