In November 2020, Mexican lawmakers passed a bill to legalise the recreational use of cannabis. The move is poised to set the country to become the world's largest marijuana market, a position it might have loathed about three decades ago. And since 2013 when Uruguay became the first country to fully legalize the cultivation, sale and use of cannabis, other countries have continued to relax its legislation against the plant, making news each time they did. 
In Nigeria, cannabis hit the news again recently when the House of Representatives spokesman, Benjamin Kalu, called for the legalisation of the plant.
"Agriculture has always been a major strength of Nigeria and cannabis provides interesting prospects," he told journalists in Akure, Ondo State, citing how legal cannabis has become a source of revenue for many countries and Nigeria must not be left out. 
Cannabis "has a high yield of edible proteins and fibres with more than 50,000 product applications ranging from paper making, textiles, biodegradable plastics, fuel, construction, healthy food, beverages, personal care products, and pharmaceuticals," the lawmaker said.
"The Global Industrial Hemp Market was valued at USD 5bn in 2019 and is projected to reach USD 36bn by 2026, growing at a CAGR of 34 per cent from 2019 to 2026."
Quoting a consultancy firm, Prohibition Partners, Kalu said that by 2023, Africa's legal cannabis market could be worth over USD 7.1bn. He added that countries like South Africa, Lesotho, Malawi, Zambia and Zimbabwe have legalised the growing of cannabis and "according to Prohibition Partners' research, by 2023, just two years from now, the South African domestic market for cannabis and related products will be worth around USD 1.9bn."
He lamented that Nigeria is better positioned to take advantage of the Africa cannabis trade due to the country's arable land, labour and population. Expectedly, Nigerians reacted, many rejecting the legalisation. Currently, it is an offence to plant, harvest, and consume cannabis as pronounced by the Dangerous Drugs Act (DDA), 1935 and Indian Hemp Act (IHA), 1966. 
WATCH THIS VIDEO: Should Nigeria Legalise Cannabis Trading? View This!
Firstly, it must be noted that cannabis has been demystified in Nigeria, with an estimated 10.64 million users, according to a 2018 Nigeria Bureau of Statistics (NBS) report. This figure implies the activeness of the cannabis trade in the country. However, unlike other sectors, the money involved is not captured officially but clandestinely oscillates among the producers, consumers and collaborators some of whom include sleazy enforcement officials. 
While religious and moral sentiments among many Nigerians encourage frowning on the plant, the cultivation, commerce and consumption of cannabis has been rising. And despite the government's war against it actively pursued by the Nigeria Drug Law Enforcement Agency (NDLEA), cannabis is readily available across the country as regular seizures by the agency confirms. In this light, perhaps it is better to legalise, control and even gain economically from cannabis rather than pretend the drug war has not overwhelmed the government.
It would be recalled that in 2019, Ondo State Governor Rotimi Akeredolu advocated cannabis cultivation to create employment and growth for not only his state but for the country. Interestingly, Akeredolu was in Thailand with Muhammad Mustapha Abdallah, the former chairman of the National Drug Law Enforcement Agency (NDLEA) to understudy how the Thailand governments benefits from cannabis.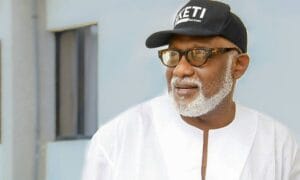 "We all know that Ondo State is the hot bed of cannabis cultivation in Nigeria," Akeredolu had said at that time. 
"With an estimated value of $145 billion in 2025, we would be short-changing ourselves if we failed to tap into the legal marijuana market. Our focus now is medical marijuana cultivation in controlled plantations under the full supervision of the NDLEA. I strongly implore the FG to take this seriously as it is a thriving industry that will create thousands of jobs for our youth and spur economic diversification."
It is ironic that two years after that conversation, the NDLEA is still focused on the old ways of confronting cannabis use.
"Legalising cannabis will lead to an increase in drug abuse," NDLEA Director of Media and Advocacy, Femi Babafemi, said, reacting to the statement from the House of Representatives' spokesman. 
"When it becomes easily available, you will have a generation of addicts to deal with. Legalising it will also make us be dealing with cases of mental disorder and work accident. Medical experts have also argued that taking marijuana affects sexual potency in men, and alters the menstrual cycle of women."
I am not surprised as NDLEA wants to remain relevant even when it is clear that it is losing the war on drugs. But while the points by the NDLEA are valid, they are not cast in stone as research has proved. Also, the focus on only the hallucinatory and dependency effects of cannabis should not be enough reason to dismiss its legalisation. After all, alcohol that is legal in many countries is also the most abused drug in the world.
Cannabis contains two active substances – Tetrahydrocannabinol (THC) and Cannabidiol (CBD). And while cannabis with high concentration of THC is favoured for the 'high' users feel, the CBD is also put to use to manage severe pains, arthritis, post-chemo symptoms, skin ailments, nausea and other anxiety disorders. Industrially, hemp, a fibre from the stem of a cannabis plant, is used to produce textile and ropes while cosmetic manufacturers favour it to produce hair creams and other products. These uses qualify them as a source of revenue.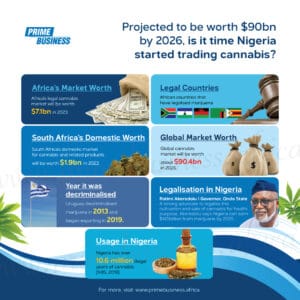 The world is witnessing embracing of cannabis in countries such as the Netherlands, Canada, South Africa and Uruguay. Others in the similar category include the UK, Israel, Georgia, Denmark, Finland, Czech Republic, Colombia, Chile, Brazil, Australia, Argentina, Barbados, Ecuador, Cyprus, Mexico, Belize and Belgium. Policymakers in these countries are not stupid. They also love their citizens too. Based on research, cannabis consumption has proved not to be as grievous as previously thought, hence, its liberalisation. In addition, economic gains various governments stand to make from legalising cannabis cannot be ruled out.
Rather than continuing the war on marijuana, it's high time the Nigerian government took a holistic approach to approaching cannabis. Spanning several uses in medicine, industry, fashion and nutrition, cannabis is a vital ingredient which has sadly been left to thrive on the black-market. Legalising cannabis would dismantle the black market which is usually a link of shady people, freeing it up for regulation. It would also open access to the burgeoning marijuana market which can then be tapped.
Also, with dwindling revenue arising from a decimating oil industry, it is wise to explore other sources of revenue. Enter agriculture. According to Kalu who presented the Dangerous Drugs Act amendment bill, 2020, the bill will aid the government's efforts to diversify the economy via agriculture.
Globally, the cannabis market is estimated to climb to US$90.4bn by 2026 according to a Bloomberg report. Who says Nigeria can't earn FOREX by tapping into marijuana export. Already, Uruguay, a country of about 3.5 million people became the first nation to decriminalise marijuana in 2013. In 2019, it began exporting marijuana and last year, the figures doubled to $7.3 million. 
With supportive laws, cannabis trade can be a game-changer in Nigeria. As practiced in countries that have decriminalised marijuana, authorities identify and monitor the cultivation, distribution and consumption of cannabis. This could involve giving out licenses and monitoring the activities. Legislation may not be the magic bullet but it is definitely a strategy worth trying as the old strategy is not working.