A foretaste of Tuesday's Prime Business Africa Socio-Economic and Entrepreneurship Development Series (SEEDS) Conference has been given by the founder, Centre for Values in Leadership, Prof. Pat Utomi and the Head, Department of Mass Communication, Baze University, Abuja, Prof. Abiodun Adeniyi.
SEEDS is a monthly webinar hosted by Prime Business Africa to contribute to the socio-economic development of the continent.
The webinar which is on funding Nigeria's Tertiary education, will be moderated by Utomi, while Adeniyi will be one of the panelists of the programme scheduled on August 31, at 4pm.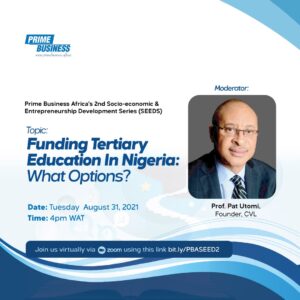 Utomi in his "abstract" expressed nostalgic feelings for the country's education programme of the early 1960s when Nigeria was in direct competition with the best across the world.
Utomi said, "Central to effectiveness in education are teacher quality, scope of access, curriculum and facilities. Sir Eric Ashby, the Oxford educator who chaired the commission on Higher Education in Nigeria set up by PM Tafawa Balewa noted that these factors were such in 1961 that our universities were as good as the best in the world.
"One generation later, Nigeria had gone off script. The consequent underperformance came from an ideological rush to expand access without matching expansion with appropriate funding, as learner fees were considered taboo. Poor funding to grow teacher quality, and curriculum oriented more toward STEM pushed the system towards crisis that need more entrepreneurial universities."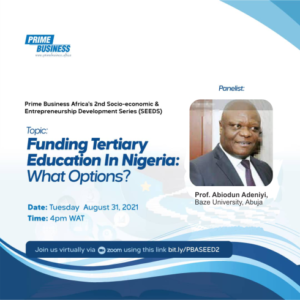 Read also: Edo Poly, ISPON Sign Agreement To Set Up Safety Studies Centre
Adeniyi, whose profile cuts across media practice/consultancy, research and academics, noted that resources for tertiary education had hardly been in evidence in years, and often leading to senior level strikes, and education tourism for those who could afford it.
He stated that private institutions had also blossomed, in what had become an alternative to the lethargy of public sector educational institutions, even though for the privileged.
Adeniyi lamented the declining regards for Nigerian certificates in some foreign circles, and diminishing government revenue, in addition to mounting public debts.
These positions were experessed in a pre-event engagement with the managment of Newstide Publications Limited, publishers of Prime Business Africa, organisers of the conference.
Hundreds of audience participants have already indicated interest to join the conference which promises to be very interactive and enlightening on the nature and sources of funding tertiary institutions in Nigeria as well as  implications on quality education at that level.
The conference will hold via Zoom at https://bit.ly/PBASEED2
Support Investigative Journalism and Mentorship
Courageous Journalism of Truth,Transparency and Development is in the DNA of Prime Business Africa; By donating as little as N1000 or $1 today, you are helping to keep credible journalism and life-changing information free for all.