Looking for the best shows on Netflix? Look no further, because Prime Business Africa has put together a list of the 5 shows currently trending on Netflix Nigeria.
From an all-new season of Alice in Borderland, which ends on a cliffhanger that perhaps only a potential Season 3 can resolve, to the return of Emily in Paris with a third season, Netflix has shows for everybody. Below are the Top 5 shows trending on Netflix Nigeria in ascending order.
Alchemy of Souls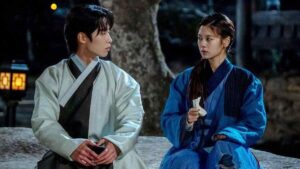 With the first season recording massive success in June of 2022, Netflix renewed this show for a second season. 'Alchemy of Souls', has been on the lips of many Nigerians since the airing of the second season commenced, on 10th December 2022.
This blockbuster Korean show follows the story of a powerful sorceress in a blind woman's body who encounters a man from a prestigious family, who wants her help to change his destiny. If you're yet to see an episode of this cinematographic excellence, I strongly recommend that you do.
Ginny and Georgia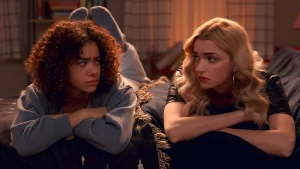 Netflix's 'Ginny & Georgia' is back for Season 2, which means more teen drama, more questionable parenting moments, and of course, more hair-raising secrets to unravel.
Despite the pulpy intrigue of Georgia's criminal history, the series, created by Sarah Lampert and Debra J. Fisher, is far more compelling when it follows the adventures of the younger Miller. Season one shallowly touched upon Ginny's struggles with self-harm and her biracial identity. The second season digs deeper into the already established storylines, Ginny's especially. Looking for the perfect teen drama with a hint of comedy, 'Ginny and Georgia' is the perfect show for you.
Kaleidoscope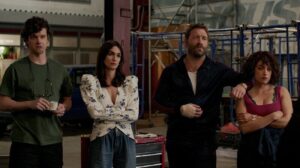 An exciting heist story, when told well, is always a good time. Unlike those made-up heist stories, we were told as children, that followed an order of heist, chase, and capture, Netflix's new thriller series, Kaleidoscope, gets creativity points for letting the audience decide how they'll watch this heist unfold by choosing the viewing order of seven of the eight episodes however they want.
From the jump, viewers can choose to watch any seven of the eight color-coded episodes in any order they like. Netflix orders them as: "Yellow: 6 Weeks Before the Heist," "Green: 7 Years Before the Heist," "Blue: 5 Days Before the Heist," "Orange: 3 Weeks Before the Heist," "Violet: 24 Years Before the Heist," "Red: The Morning After the Heist," and "Pink: 6 Months After." Watching all seven unlocks episode eight, "White: The Heist."
From the episode titles, one may be able to plan an order of watch. This thriller show is sure to keep you on the edge of your seat from start to finish, I highly recommend it.
READ ALSO:Zinoleesky Makes Debut On Billboard Charts
Far From Home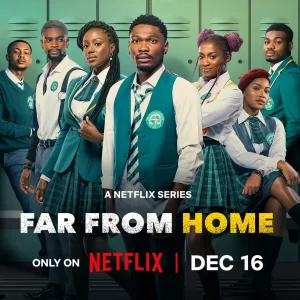 "Far From Home", a Netflix Nigeria's original, stars Ishaya Bello (Mike Afolarin), a poor art genius who won a chance to work with one of the hotshots of the art world, Essien. But he doesn't have the money to travel to London. So he tries all sorts of trickery to fund his upcoming travels. This includes cheating in the scholarship exam of the prestigious Wilmer Academy, faking his school report card, and robbing a mob boss.
With just 5 episodes, "Far From Home" keeps the pace brisk and the plot always moving, keeping me at the edge of my seat from start to finish.
READ ALSO:'Motherland The Musical' Breaks Record As Temi Otedola Debuts
Wednesday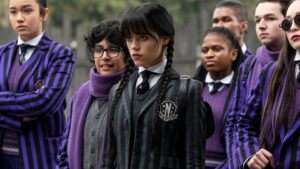 If you've not seen 'Wednesday', the Tim Burton–helmed Addams Family spinoff Netflix's new hit series, it is assumed you live under a rock.
'Wednesday' is an American supernatural comedy horror television series, based on the character Wednesday Addams, from The Addams Family.
It stars Jenna Ortega as the lead character, with Catherine Zeta-Jones, Luis Guzmán, Isaac Ordonez, Gwendoline Christie, Riki Lindhome, Jamie McShane, Fred Armisen, and Christina Ricci appearing in supporting roles.
It's a very good watch, if you enjoy supernatural-themed shows, then this is a perfect show for you.