President Bola Tinubu of Nigeria and South African President Cyril Ramaphosa held extensive discussions in New York City on Monday, in a bid to bolster economic ties and advocate for reforms within international finance institutions.
The high-level meeting took place ahead of the United Nations General Assembly, where both leaders highlighted the need for stronger collaboration between their nations and reforming global financial institutions to support developing democracies in Africa.
Speaking at the meeting, President Tinubu stressed the importance of international development finance institutions meeting the specific needs of developing democracies in Africa, akin to the Marshall Plan that aided the reconstruction and economic recovery of European nations after World War II.
READ ALSO: AfDB Launches Digital Platform To Drive Business Linkages In Madagascar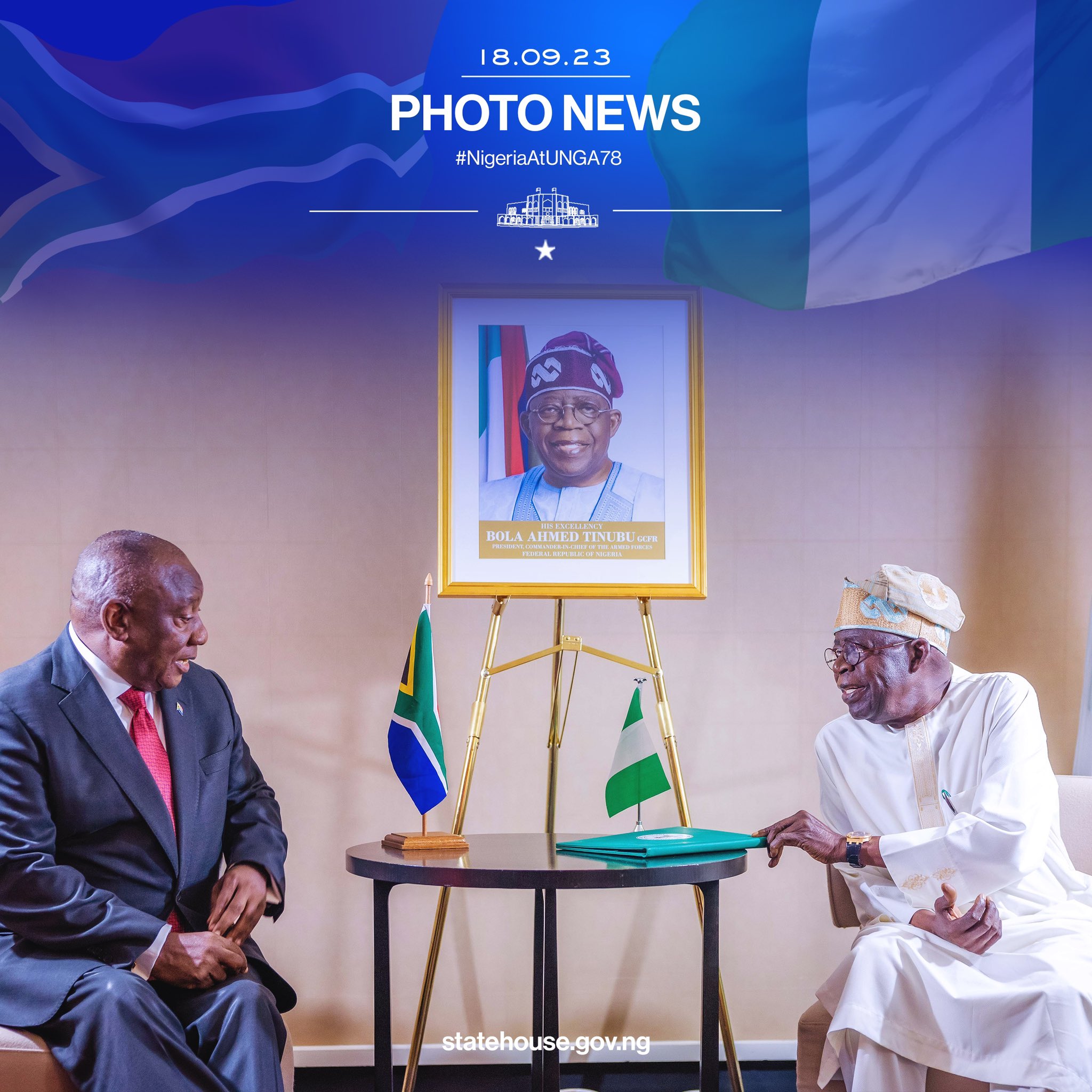 "We have to be careful not to replace the broken shackles of yesterday with a new set of shackles," President Tinubu said. "Democracy without food on the table is a breeding ground for what will consume us if care is not taken. We must join hands and agree that international finance institutions require reform, as Africa is not to be a ground for economic scavenging any longer, but a place with gifted people ready for investment and cooperation."
Both leaders acknowledged the wealth of human and natural resources within their nations and expressed a commitment to mutually beneficial collaboration. President Tinubu cited South African expertise in mining and Nigerian solid minerals development, as well as the success of South African businesses in Nigeria's telecommunications sector, as examples of areas where cooperation could thrive.
President Ramaphosa agreed, emphasizing the importance of deepening economic ties between the two major African economies. He noted that the African Continental Free Trade Agreement provided a significant opportunity for increased collaboration.
"We are two major economies on our continent, and it is important that we deepen economic ties, particularly in light of the African Continental Free Trade Agreement," President Ramaphosa said.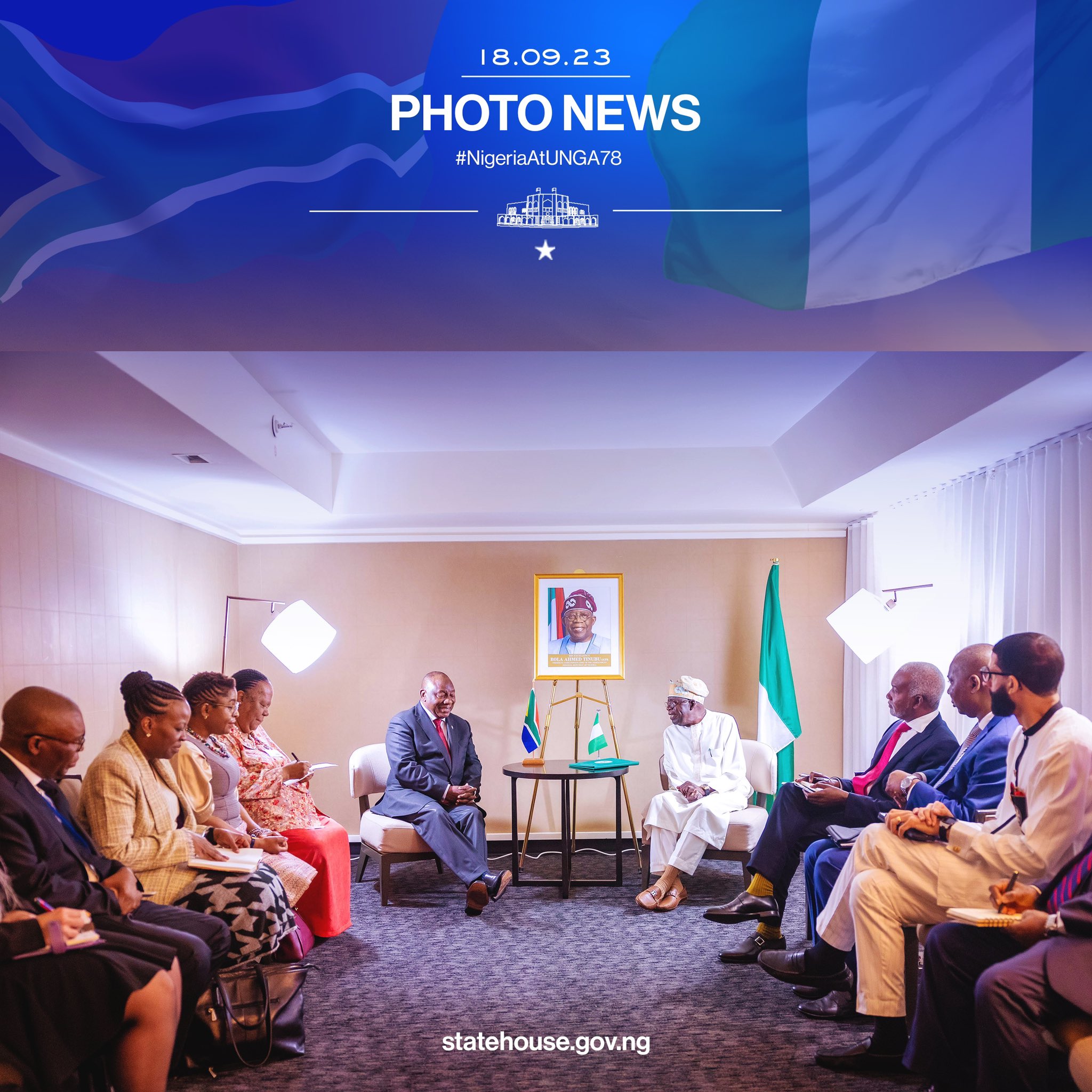 President Ramaphosa also extended an invitation for President Tinubu to visit South Africa, following his own recent visit to Nigeria. The South African leader emphasized the potential impact of Nigeria and South Africa working together on global issues.
"Together, we can move the global south forward. We are a continent that has been plundered, and wealthy nations made so much of it from us. We must seek out partners who will help us to advance our own interests," President Ramaphosa added.
Recognizing President Tinubu's effective leadership as the Chairman of the ECOWAS Authority of Heads of State, President Ramaphosa expressed a desire to emulate the solidarity demonstrated in West Africa in the Southern African sub-region, particularly in light of recent events in Mozambique.
In response to the invitation, President Tinubu highlighted the untapped potential for accelerated growth and economic opportunity in Africa. He stressed the importance of African nations being in charge of their own resources and working together effectively to benefit the continent's one billion inhabitants.
"Our continent is the last untapped ground for accelerated, massive growth and new economic opportunity on earth. We must be in charge of our own resources, and we must work to use each other effectively to achieve what is best for all of us," President Tinubu concluded.
Support Investigative Journalism and Mentorship
Courageous Journalism of Truth,Transparency and Development is in the DNA of Prime Business Africa; By donating as little as N1000 or $1 today, you are helping to keep credible journalism and life-changing information free for all.