President Bola Tinubu expressed his strong support for a groundbreaking initiative aimed at delivering over 5 million pairs of eyeglasses to Nigerians with vision impairments.
The President's endorsement came during a meeting with Prof. Andrew Bastawrous, Founder and CEO of the Peek Vision Foundation and Co-Founder of the Vision Catalyst Fund, at the State House in Abuja.
The President's resounding support for this initiative brings hope to millions of Nigerians facing vision impairments, marking a significant step toward improved eye healthcare accessibility and overall national development.
READ ALSO: Soludo Likens Tinubu's Economic Inheritance From Buhari To 'Dead Horse'
President Tinubu opened up about his connection to the cause, recounting the pivotal moment when his late mother's vision was restored with the help of eyeglasses.
He shared, "My first experience was with my mother of blessed memory. She was ill and she could not recognize me. When I intervened, she was treated and given a pair of glasses."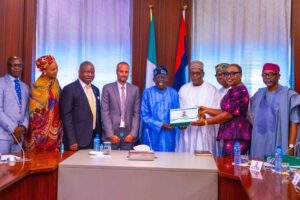 Moved by his mother's experience, the President pledged to make eye care more accessible to all Nigerians, stating, "So I made a promise to her that I will pursue the mass provision of eye care vigorously and that I would provide free eye screenings and surgeries to people because of that question my mother asked me and because of her passion to see others healed."
Reflecting on his past efforts, President Tinubu referenced the "Jigi Bola" program initiated during his tenure as the Executive Governor of Lagos State in 2001. This program provided free eye screenings and surgeries to Lagosians, setting a precedent for proactive eye care initiatives in West Africa.
Emphasizing the urgency of improving eye health services in Nigeria, President Tinubu expressed concern for the over 24 million Nigerians affected by varying degrees of vision impairment. He stressed, "We must act now because sight and vision are critical to economic development and growth."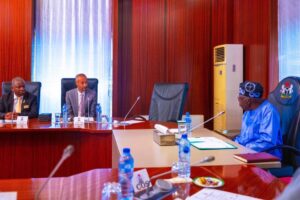 Prof. Bastawrous, who leads the Peek Vision Foundation, echoed the President's sentiments, stating, "Good vision unlocks human potential. It improves earning, learning, and wellness for individuals, communities, and countries." He shared his journey, highlighting the transformative impact of vision care on his life.
"When I was 12, I was told by my teachers that I was clumsy and lazy, but the results of an eye exam explained I had very poor vision. And when I put on a pair of glasses, I saw the leaves on a tree for the first time, and my life completely changed," Prof. Bastawrous shared. "Sight gives opportunity."
Prof. Bastawrous also noted the under-resourced state of eye care in many countries, revealing that only a minuscule fraction of Nigeria's health budget, 0.0002 percent, is allocated to eye health. However, he expressed optimism about leveraging resources through Peek Vision's methodology and platform.
"In the countries where we have worked, Peek in Botswana unlocked 10 million dollars for the school program, and in Kenya, 17 million Euros. Through the Vision Catalyst Fund, we have secured a donation of 200 million pairs of glasses, and we would like a significant proportion of that to come to Nigeria," he stated.
As a culmination of the event, the Coordinating Minister of Health and Social Welfare, Prof. Mohammed Ali Pate, along with the Coordinator of the National Eye Health Programme, Dr. Oteri Okolo, and the Director of Public Health, Dr. Chukuma Anyaike, presented a National Policy Document on Eye Health to President Tinubu.
Support Investigative Journalism and Mentorship