Three days to the expiration of the deadline for collection of Permanent Voter Cards (PVCs) set by the Independent National Electoral Commission (INEC) nationwide, thousands of registered voters have been unable to collect their PVCs at Oshodi-Isolo Local Government Area in Lagos.
The people who got enraged by the situation embarked on protests demanding that their cards be released to them.
They accused INEC officials of deliberately seizing their cards and telling them "not found."
Some of them who spoke to journalists at the Oshodi-Isolo LGA headquarters on Thursday, 2nd February 2023, said they have been consistently coming to the INEC office in the local government for weeks and were turned back each day.
The majority of them said they came from Ejigbo and Okota areas of Lagos under the Oshodi-Isolo LGA, lamenting that they got a text message from INEC to come for collection of their PVCs but were being turned back that they are not available.
READ ALSO: How To Check And Confirm Your PVC Online
Prime Business Africa gathered that out of the crowd that gathered in front of the INEC office at the LGA, as early as 8 am, only five persons were issued cards as at 1:15 pm when the rest were asked to go home with the response that their PVCs were not found.
One of the registered voters, Hope Onyebuchi, who spoke to Prime Business Africa at the LGA headquarters, said he went to Okota and was told to come to the LGA to collect his card.
Another person named Patience said some staff told her to go home and come back after the election to sort out the PVC issue. "What am I doing with the PVC after the election? to vote for Jesus Christ?" she queried.
Chairman of The Big Tent, a coalition of CSOs and political parties, Prof. Pat Utomi, who came to observe the PVC collection process at the local government, frowned at the slow pace at which the cards were being distributed.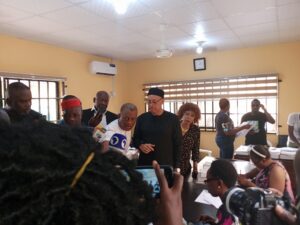 Utomi said that even with the extension of the deadline issued by INEC for PVC collection which ends on Sunday, 5th February, many voters are yet unable to collect their cards as they are being frustrated by the attitudes of INEC officials.
Addressing journalists on what he observed, Utomi, a renowned Political Economist, said: "This process has so far been frustrating that either INEC officials or whatever circumstances they can claim are responsible. The collection has been extended but it seems the whole thing has been a whitewash, because people are seemingly unable to collect their voter cards.
"We have had a team from The Big Tent here since early this morning and as I speak to you, it's quarter after one in the afternoon but only five people from the thousands of people gathered outside have been able to collect their cards since 8 am."
Decrying the situation in which many registered voters were turned back without collecting their PVCs, Utomi said that they shouldn't be treated in such a manner in a country that operates democracy.
"They took a lot of trouble to register. They are being frustrated and prevented from having their cards. Many have even gone; this cannot be a democracy."
He said that if INEC cannot handle distribution of PVCs, they should involve private sector organisations and decentralise the collection process to achieve efficient results and avoid disenfranchising many eligible Nigerians who are eager to vote during the upcoming elections.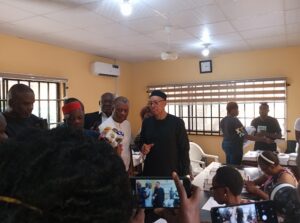 Utomi called on INEC to further extend the period for the collection of PVCs, stressing that the electoral body should look into its process to make it more efficient otherwise it would leave the public with the impression that there is a deliberate effort to frustrate and disenfranchise a group of Nigerians.
"If INEC does not have the competence to do a simple thing like capture people's biometrics and giving them a card, then something is fundamentally wrong. How can we trust that organisation? The imperative of this is that the extension is certainly not of any value.
"It needs to be extended further, but more importantly, we need better approaches, otherwise we will accept the default which is that INEC is complicit in trying to prevent the Nigerian people from casting their ballots. If they dispute it, they should do something to prove that's incorrect.
"Let it not be that there is a deliberate effort, as it's now beginning to look, to frustrate Nigerians, who want to cast their ballots. The legitimacy of the regime that comes out of this process is on the balance and we must not allow people to use these processes to prevent Nigerians from making progress.
Nigerian elections have been fraudulent consistently. This one will not be fraudulent," Utomi stressed.
Continuing, he said: "The Nigerian people, the young people of Nigeria, median age 18.2 have said that enough is enough, their future cannot be continually held back by politicians, who are obsessed with self-love and willing to go as far as is possible to prevent the will of the Nigerian people from being reflected in the polls.
"We are calling on the world, the entire planet to note what is going on in Nigeria and that if the place breaks down because the people of Nigeria refused to accept these shenanigans, let it not be said that a warning did not go out. You cannot have thousands of people outside there for half of a day, who left their jobs and everything they are doing to come and pick up their cards."
He also urged INEC to consider making provisions for students, who had registered while they were at home during the ASUU strike but are now back to school, to collect their PVCs or be offered alternative means of casting their votes from their current locations outside their polling units.
He said such could be possible in this era of technology as the electoral body already has their biometric data.
"This is also another opportunity to say to INEC, we don't want you to disenfranchise those students who registered while they were on forced holidays and are back in school. We don't want them to be disenfranchised. There must be a clear way of either shutting the institutions for a week or so. Or ensuring that everybody who registered and is outside of their school location gets the right to vote. This is an age of technology for crying out loud. Their biometrics are captured. They don't even need to go to a polling station to vote. We use bank coordinates to transfer hundreds of thousands of Naira and millions from our bank accounts to people, what about simple things like casting a ballot?
"It's either INEC does not want the will of the Nigerian people to be reflected in these elections or somebody is deceiving somebody," Utomi concluded.
The aggrieved registered voters who could not collect their PVCs refused to go, demanding that INEC officials in the LGA should release their cards.