With the general elections edging closer by the day, you MUST have your PVC ready.
Interestingly, with the launch of the Commission's online platform, "INEC has been looking at ways to make voter registration easier, more accessible, and user-friendly," hinted Nigeria's Independent National Electoral Commission (INEC) Chairman, Professor Mahmood Yakubu.
Okay. Let's start from the start now.
You already know that the country's general elections begin on February 25, 2023.
Available insights affirm that since the 2019 elections, about 20 million Nigerians have turned 18 and are now eligible to vote. While every Nigerian citizen has the right to vote, logistical obstacles can prevent them from exercising it. One of the most important steps in the voting process can be taken right now, though, and that's confirming your Permanent Voters Card (PVC) on INEC's portal to be sure you are well girded to vote.
It's no news! Voters must present a PVC issued by the Independent National Electoral Commission (INEC) on Election Day in order to participate in the voting process.
READ ALSO: 2023 Elections: How To Confirm Your Polling Unit Online
In previous elections, PVC registration was an arduous process that required people to queue for days. Now, any Nigerian citizen with access to the internet can register a PVC by themselves online as INEC had launched an online portal for this purpose. The move was adjudged very salutary. Other than registering for a new PVC, voters can also use the site to transfer their cards to a different state or request a card to be reissued.
READ ALSO:You Cannot Vote Without PVC, Says INEC
Unfortunately, the INEC chairman had revealed in April that around 45% of the registrations were declared invalid due to incomplete data and wrong or multiple registrations. In some regions, the chairman added, that percentage was as high as 60%.
Apparently, INEC didn't sleep. The commission has continued to seek out how it can make light the very cumbersome process, hence, the latest announcement that everyone can now check and confirm their PVC, online.
Haha! This must be music to your ears right now if you've ever been to ANY INEC's physical office. And ohh… the tediousness of having an official respond to your simple "good afternoon," let alone getting what you went there for.
Phew!
Let's just go ahead.
How To Check And Confirm Your PVC Online
Did your registation? Great! You can now check and confirm your PVC in the web without leaving the comfort of your desk. Just like the new INEC Voters Online Portal allowed users to create an account and carried out a number of activities, including the updating of personal details, transfer of voting centre, and request for replacement of lost or stolen PVC, and others.
Permit us to conclude this post already. Conclusion? Yes, conclusion…checking and confirming your PVC is actually a slurp!
We will conclude this post in the words of INEC's public service announcement: "Everyone can now check & confirm their PVC online via: voters.inecnigeria.org . Check for yours and tell others to do so as well. Retweet, Save the link and share it on WhatsApp, Facebook, Instagram, TikTok & LinkedIn. Spread the word everywhere!!"
You see? You don't have to lift a foot, just lift a finger and you would have checked and confirmed your PVC!
PS: Here is what the page looks like: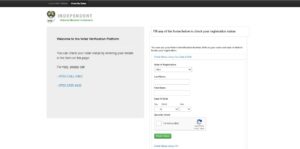 Powered by Jackson Centre For Innovative Journalism and Media Development – JCIJMD