Former Nigeria Football Association President, Sani Lulu Abdullahi, has debunked the allegation of 'corruption' levelled against his administration in 2010 by one time England head coach, Sven Goran Eriksson.
The Swede tactician in his book titled 'My Story', recounted how he was asked to part with half of his supposed salaries on a monthly basis if offered the Super Eagles coaching job ahead of the 2010 FIFA World Cup in South Africa.
Eriksson's words: "After Nigeria lost the semi-final game of the Africa Cup of Nations, the Nigerian FA had sacked the team coach (in reference to late Shuaibu Amodu), despite just four months remaining before the World Cup, in order to bring in a European replacement," Eriksson stated in his book.
"Like many other African countries, Nigeria did not trust the domestic coaches," Eriksson affirmed.
READ ALSO: Eze, Abraham, Tomori Dropped From England's World Cup Squad, Saka Makes Cut
Continuing, the 74- year- old coach said: "I flew to Abuja, the Nigerian capital, to meet the Nigerian FA and I thought I was coming to negotiate the job as Nigeria's manager.
"I knew the Nigerians had also shown interest in the coach of the Egyptian national team, but I assumed the job was mine if I wanted it. I should not have made that assumption.
"We met at the Hilton Hotel in Abuja. In the meeting room, perhaps ten people were sitting, as if on a panel, behind a table. Right away, they started asking stupid questions.
"After the meeting in Abuja, they told me that half of my salary will be deposited in a special bank which I rejected and that was why I was not given the job," Eriksson further said in his book.
However, in a fiery response to the startling revelations, Lulu denied any wrongdoings in the efforts to engage Erik Eriksson.
"This is cheap blackmail by a white man. He should identify the person, who is that person that wanted to take half of his salary?"
"He cannot paint my name negatively. I am still looking to know who did (performed) more than myself in the NFF," the former administrator retorted in an interview on Brila FM, Lagos as monitored by Prime Business Africa.
Lars Lagerback was eventually hired by the Nigeria Football Association (now Federation) to lead the three-time African champions to South Africa 2010.
Support Investigative Journalism and Mentorship
Courageous Journalism of Truth,Transparency and Development is in the DNA of Prime Business Africa; By donating as little as N1000 or $1 today, you are helping to keep credible journalism and life-changing information free for all.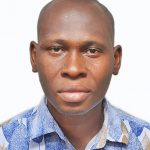 Izuchukwu Okosi is a Nigerian sports and entertainment journalist with two decades of experience in the media industry having begun his media journey in 2002 as an intern at Mundial Sports International (MSI) and Africa Independent Television (AIT), owners of Daar Communications Plc.
In October 2004, Okosi joined Complete Communications Limited, publishers of Complete Sports newspaper and Complete Football magazine as a reporter and later script writer for the Complete Sports studio.
He worked there for 13 years until October 2017.
Okosi also worked various times as Correspondent, Content creator and Editor at Sports Market International Magazine, Opera News, All Nigeria Soccer Media and Iconic Media Watch.
He also undertook freelance writing gigs for some local and international organizations.
Okosi is a member of the Actors Guild of Nigeria (AGN), Association of Movie Producers (AMP), Association of Voiceover Artistes of Nigeria (AVOA), Sports Writers Association of Nigeria (SWAN) and Nigeria Union of Journalists (NUJ).
He has been part of cast in some Nollywood movies and radio dramas including Blood Money 2, Scores To Settle, Dead End 2, Another Campus Tale and Battle Line.
Aside mainstream media and the entertainment industry, he has interests in scouting/unearthing of talents in the sports and creative sectors, exports business and property development.