The Association of Students with Special Needs (ASSN) University of Nigeria Nsukka (UNN) chapter, has called on authorities in higher institutions across the country to make learning and living environments more conducive for students, especially those with disabilities.
The Association made the call during her first awareness /sensitization programme tagged, "Breaking Barriers Towards an Inclusive University for All" held at the UNN Faculty of Arts Lecture Theatre on Thursday, 22 June 2023.
The ASSN UNN president, Chukwuebuka Martins, in his welcome address, thanked the school administration for efforts so far in making sure that Students with Disabilities excel academically.
In the address read by John Adoyi, also a member of the association, he however, lamented about challenges facing Students With Disabilities in the institution such as: finding it difficult to navigate the school environments because of the attitudes of some drivers, falling into drainage channels in the school environment, being mandated to buy hard copy textbooks amongst others.
"We use this auspicious occasion to plead with the school to make learning and living more inclusive for all. Provision of textbooks and exam questions in soft copy or Braille, giving extra time during handwritten exams, provision of speed bombs around certain areas like the library road, and ramps in school buildings to aid mobility and easy stay of persons with disabilities in the institutions," the association pleaded.
In the same vein, a guest speaker and the president of the Joint National Association of Persons with Disabilities, Enugu (JONAPD) Enugu, Comr. Onyebuchi Mba, who is also battling with the challenge of visual impairment, urged the university to empower disabled persons and implement policies that will mitigate their challenges.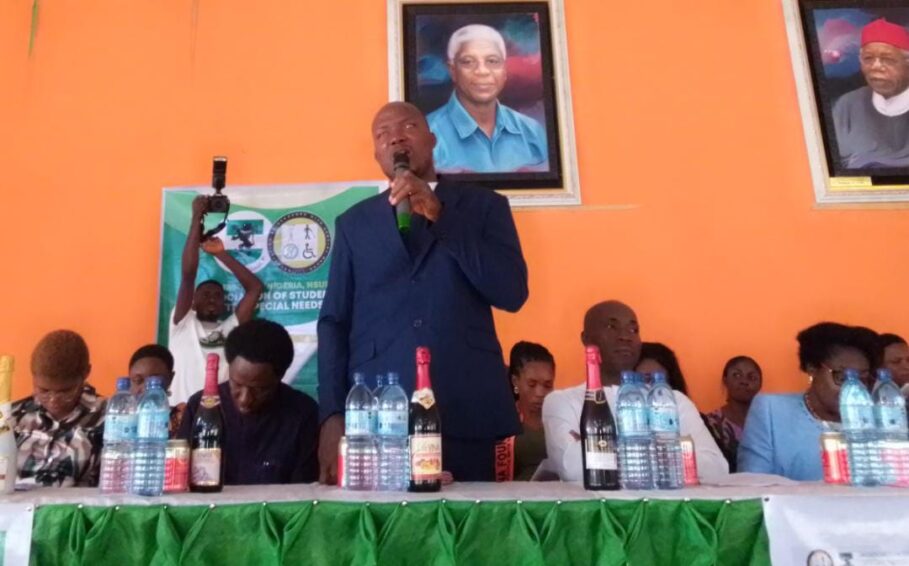 Mba stated that the attitudes of some Nigerians toward Persons With Special Needs have contributed to aggravating their challenges.
"When you empower a person with disability, you have empowered many people. Former president Muhammadu Buhari had in 2018 signed an act for PWDS, but it is yet to be implemented. How about the policies to take them up because what PWDs suffer in Nigeria is not really the challenges that come with being disabled but, the attitude of Nigerians towards this group. The challenges usually start from primary schools down to higher institutions. We lack training personnel in the special school. How do we continue in such environment? Many classrooms are no-go areas. This is dehumanizing," Mr Mba lamented.
Mba, who is also the coordinator of South East National Association of  Blind Persons encouraged the SWDs not to allow anything to weigh them down, telling them that their destinies are in their hands.
"But I was told that whoever happens to be a lion, is forever a lion no matter the challenges. You may not value what you have until you lose it. Your destinies are in your hands; know that God is not done with you yet. You should know that Onyebuchi Mba was not born blind, I lost one of my eyes at eleven, later on, I lost the other and my parents died when I was still young. Being the only child of my parents, I was left with nobody to take care of me. Since I made it to this point, you too can make it" Mba told the SWDs.
Also speaking, the coordinator, Human Rights Volunteer Corps (HRVC) Enugu, Dr Larry Oguego explained what it means to have an inclusive institution.
"What does it mean to build an inclusive society? How do you make the lion den more inclusive?  It means designing an environment that will take care of everybody"
Dr Larry, who is also the Patron of students with disability in Enugu, stated that he is a die-hard friend of people with disability, and pointed out things that the university should do to curb the suffering of SWDs.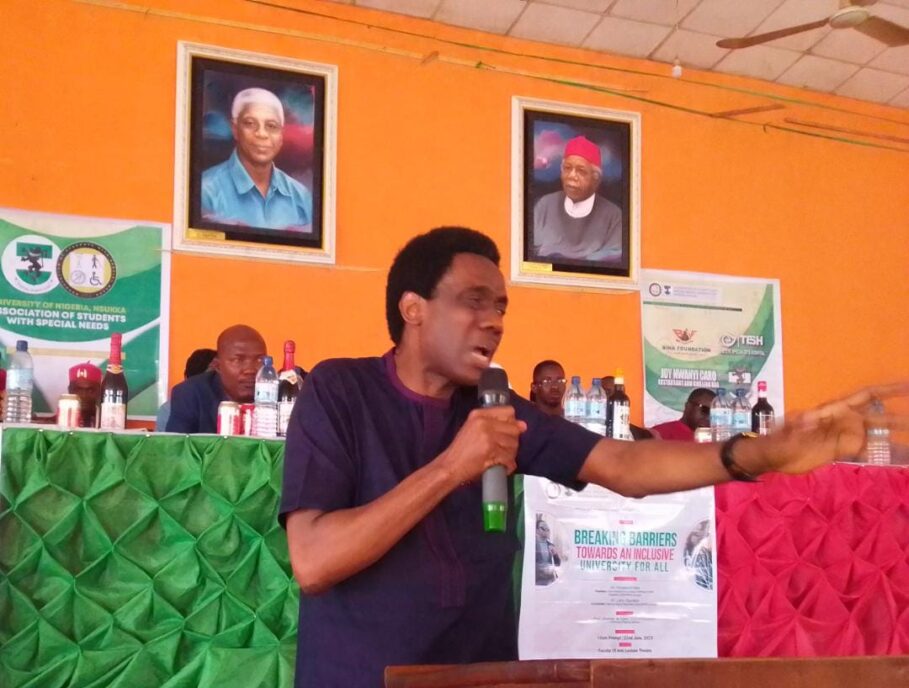 He said the first step is "building infrastructure."
According to him, it is not just about building houses, but having people with disabilities in mind while constructing these things.
"In this case, infrastructure is the key. In building, you have to consider if people using wheelchairs can actually enter the door. Can they climb the staircases?
"Another way of making the university inclusive for all is by providing study materials for persons with disabilities. The essence of the name university is for a holistic study. Since you have admitted them to the university, provide materials for them, if you know that you are not ready to teach them, do not admit them. The school should consider providing these people with laptops, smart phones and applications to navigate their studies. People should be trained to handle Braille and to interpret for the deaf" Larry added.
"When all these are considered, it will now result to 'a paradigm shift.' It means that people with disabilities should not be treated with sympathy but rather empathy. The question you should ask yourself is, what if I am disable? Will I be able to find help from people? It is when the leadership of this institution put herself in the shoes of people with disabilities that they can bring seven floor down for the disable instead of the disable being carried to seven story buildings."
"Lecturers perform two functions in an institution, one is to impact knowledge, and the greatest is to raise students who can be proud of their lecturers tomorrow. As a lecturer, it is your job to inspire your students to greatness."
Citing section 24, 26 and 27 of the disability act, Dr Larry urged UNN to always consider this act in making her policies. According to him, the act provides for full integration of persons with disabilities into the society. He stated that UNN occupies a unique position in the history of Nigeria and should have a centre dedicated for research and learning to further facilitate the welfare of PWDs.
The chief host of the event, and the Vice Chancellor, UNN, Prof. Charles Igwe, who was represented by Uju Umo, the director academic planning unit, promised that there will be no more barriers for SWDs in UNN.
"Nobody can stop you provided you follow the due processes in looking for what you want. This programme is a welcome development and I assure you that it will bear positive impact, the administration will always support whatever project you have. Congratulations!," Igwe stated.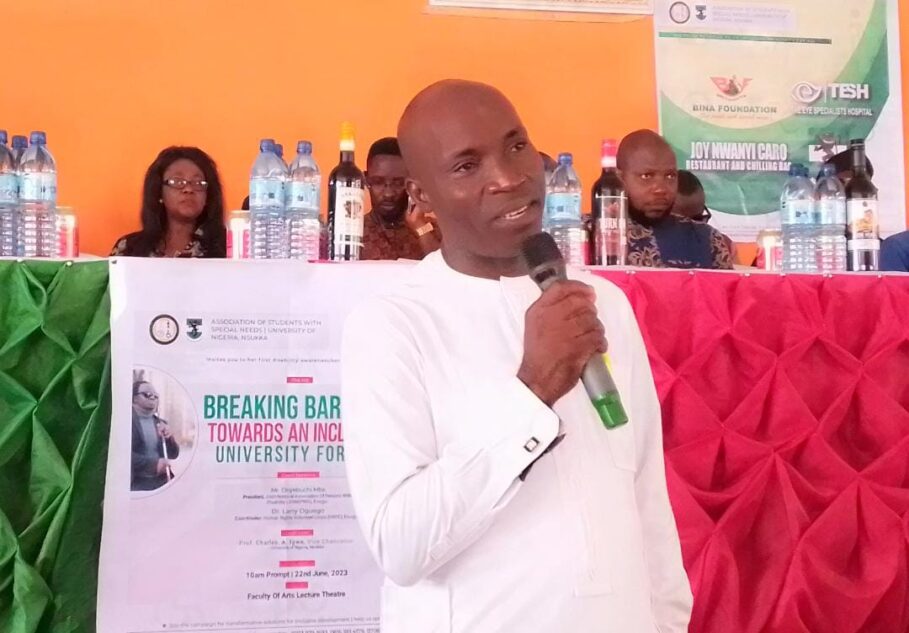 Chairman of the occasion, and Dean of students' affairs Prof. Edwin Omeje promised the association that their ugly situation has come to an end.
"It is a very passionate vision I have, to ensure that the Students With special Needs will be continued to take care of. I am very glad that this occasion is taking place. UNN is taking every necessary steps to ensure that the old ugly condition of SWSN is a thing of the past. The V.C. have been supporting massively in this drive," Omeje stated.
BINA foundation a non-governmental organisation for people with Special needs also facilitated the programme. The NGO founded by Lady Ifeoma Atuegwu, located at thinkers Corner Industrial Layout, Emene Enugu, sent a representative from Enugu to encourage and celebrate with SWDs UNN. The organisation offers skill training, basic computer literacy, Braille literacy, sign language class amongst others for PWDs.
The Association of Students With Special Needs (ASSN) is an umbrella body of all students with any form of disability studying in UNN. The association comprises 70 students with majority being visually impaired. Some of these students showcased their talents at the event.
Those that produce meat pie, Izal, liquid soup etc brought their products to the event. Amongst them were the DJ, pianist, drummer, and singer of the events.
Amongst other guests that were present at this first awareness and sensitization programmes are: head of Special Needs Library, Mrs Njokwu, staff adviser of the association, Dr. Mrs Osadebe, HODs, staffs and students of the universities