As the Spanish national team prepare to face Cyprus Tuesday night in a Group A Euro 2024 qualifier, a Spanish high court judge has opened an investigation of former Spanish Football Federation president Luis Rubiales.
Rubiales called time on his position as the Spanish Football Federation boss after initially stating that he was not going to resign.
READ: Spain – The Cost Of A World Cup Kiss
Rubiales was suspended by FIFA and has also resigned from his post as vice-president of UEFA's executive committee.
During an interview with Morgan on Talk TV's 'Piers Morgan Uncensored', Rubiales announced his retirement. He said: "I'm going to [resign]. I cannot continue my work."
When asked why he has decided to resign, Rubiales replied: "My father, my daughters, I spoke with them. They know it's not a question about me.
Spain forward Jenni Hermoso filed a legal complaint last week over Rubiales kissing her on the lips following her country's Women's World Cup final win during the trophy presentation.
Hermoso, 33, said the kiss after her team defeated England was not consensual, while Rubiales claimed it was "mutual" and "consensual".
Rubiales on Sunday night at 10pm local time announced his resignation as Spanish FA president as a result of the controversy.
He released a statement to say that he has handed in his resignation to Pedro Rocha, the acting president of the Spanish Football Federation.
Last week, Prosecutor Marta Durantez Gil filed a complaint with Spain's high court against Rubiales for sexual assault and coercion.
On Monday, Judge Francisco de Jorge of the National Court accepted the complaint.
A magistrate will be assigned to lead an investigation, which will conclude either with a recommendation for the case to go to trial or be dismissed.
The charge of sexual assault under Spanish law can carry a punishment ranging from a fine to four years in prison.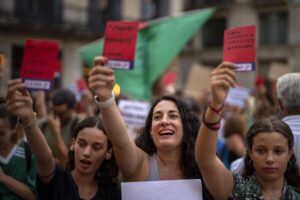 Pchuca player Hermoso released a long statement on social media on 25 August saying the kiss was not "consensual".
"I feel the need to report this incident because I believe no person, in any work, sports or social setting should be a victim of these types of non-consensual behaviours. I felt vulnerable and a victim of impulsive-driven, sexist, out-of-place act, without any consent on my part," she continued.
"Quite simply, I was not respected."
Spain men's coach Luis de la Fuente asked for "forgiveness" after applauding the speech in which Rubiales said he would not resign for kissing Hermoso.
Asked about the resignation of Rubiales prior to his side's game against Cyprus tonight (on Tuesday), De la Fuente said: "In here we think about football and we live in a bubble to be isolated.
"I think we have to focus on football and on what we football professionals can control.
"I have total and absolute respect for the decision taken by Mr Rubiales. People make decisions when they think they have to make them."
De la Fuente was also questioned on whether he felt the need to send a message to Rubiales, who hired him as manager in December.
"I have been working at the RFEF for 11 years. I have lived a long time before Luis Rubiales arrived," added De la Fuente.
"I am a football coach. Nobody has gifted me anything, I have earned it. I am grateful to all the people who have helped me throughout my life. And, no, I have not spoken to him."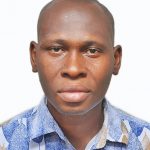 Izuchukwu Okosi is a Nigerian sports and entertainment journalist with two decades of experience in the media industry having begun his media journey in 2002 as an intern at Mundial Sports International (MSI) and Africa Independent Television (AIT), owners of Daar Communications Plc.
In October 2004, Okosi joined Complete Communications Limited, publishers of Complete Sports newspaper and Complete Football magazine as a reporter and later script writer for the Complete Sports studio.
He worked there for 13 years until October 2017.
Okosi also worked various times as Correspondent, Content creator and Editor at Sports Market International Magazine, Opera News, All Nigeria Soccer Media and Iconic Media Watch.
He also undertook freelance writing gigs for some local and international organizations.
Okosi is a member of the Actors Guild of Nigeria (AGN), Association of Movie Producers (AMP), Association of Voiceover Artistes of Nigeria (AVOA), Sports Writers Association of Nigeria (SWAN) and Nigeria Union of Journalists (NUJ).
He has been part of cast in some Nollywood movies and radio dramas including Blood Money 2, Scores To Settle, Dead End 2, Another Campus Tale and Battle Line.
Aside mainstream media and the entertainment industry, he has interests in scouting/unearthing of talents in the sports and creative sectors, exports business and property development.