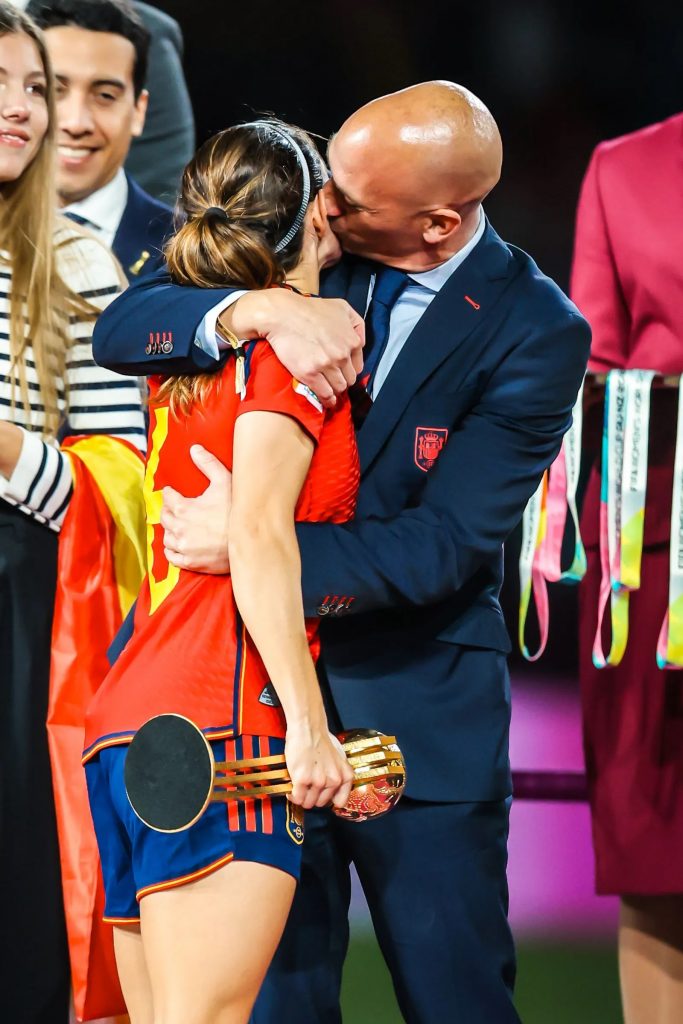 The unfortunate kiss of Spain's world cup winning captain, Jennifer Hermoso, by her football federation president, Luis Rubiales, demonstrated again how much bad news is good news to the world (or is it to journalists?). Instead of news about a world cup feat, Spain's world cup glory was all about consent vs. non-consent and the pressures on Rubiales to resign, not rejoice about his efforts.
Pedro Sanchez, Spain's acting prime minster, criticized Rubiales for a non-consensual kiss. Spain's female football team threatened to quit if Rubuales did not resign. Spain's football federation and the regional presidents called on him to resign. European clubs did the same. The federation of International Football (FIFA) placed a ban on him for 90 days pending investigations. It was only his mother, Angeles Bejar, who went on a hunger strike in support of her son.
For a moment, it seemed the world was being unfair to Spain after a hard-fought triumph against the favourite, a blisteringly attacking England team. Unsurprisingly, Spain played along in the kiss saga, helping to blight its world-cup glory with the commotion about a kiss. Sex, immorality, nudity, racism and team quarrels are off-field events in football that grab far higher number of headlines than the game itself. Arguably, the euphoria of the win could have instigated the unique hug and peck of most of the ladies by the Rubiales, who may also have overexploited a rare occasion to have a line of bevies rapturously caressing his embrace.
But, how can a world that merchandises sex in sports be so concerned about a kiss in the circumstances it was administered? Many contexts in sports makes it curious to pose some moral questions in games. This is without prejudice to what is clearly a loss of self-control by Rubiales. For instance, the global display of lewdness and nudity in sports creates a paradox that will keep birthing irresolvable crisis of morality such as the kiss mess. This, perhaps, is speaking purely from an African perspective, though the discussion transcends Africa.
Erotica And The Morality Crisis In Modern Sports
Possibly, many sports tickets sell out majorly for the sweet display of sensitive body parts of sportsmen and women. Female football makes it even more of a pageantry by an outstanding array of beauties playing the game. Unfortunately, there is an ironic gender gap in female football in the number of national and international football officials from the coaches through football associations and federations to the doctors. A medal distribution ceremony dominated by men will only lead to eye-popping hugs between the male officials and female players.
On June 20, Nigerian player, Asisat Oshoala, removed her shirts, exposing her sports bra in celebration of a goal against Australia during the women's world cup this year. This sparked a controversy far above the historic win back in Nigeria. Many shuddered at the act, including initially by Asisat's father, Alhaji Oshoala, who later accepted that the circumstances led to the shirtless celebration. Yet, sports bra is the only top won by women in all of the athletics games the world over. Downwards, men and women wear just pants. In general, the Olympics & various global athletics championships are festivals in skimpy-body-contour revealing wears. Wrestling, tennis, basketball, volleyball, netball, football, sprints, etc., are sports where the women especially are a wrenching erotic spectacle.
After one of the races in the ongoing World Athletics Championships, a female athlete celebrated with a colleague. She occasionally pulled at her pants, as it hid disturbingly from her anal cleavages. As she stomped from tiredness, her feet agitated her firm laps, which in turn shook a sturdy waist that protruded to two pointed, rhythmically vibrating black buttocks.
When the camera tried to hide this a bit, it zoomed in on a mountainous chest, where two tasty breasts fought hard to dance from the firm grip of her sports bra. After each bout of the men's race and other events, their masculinity, tensed up by pressure and fiercely poised, always nudges the tight pants to the salivation of entranced spectators, mainly the women.
And Tennis games? You fight to make sense of your watching time, which is often unequally divided between futile sightseeing towards widespread legs, where tight knickers poke from alluring, desperately short skirts that encircle ambitious waists, which curl up to dream-night chests displayed only by Amazons. Often, the sports bras refuse to allow the well-rounded chesty pointers to respond to the agility of the body as the damsels react to the serves and counters strokes. Notably, the TV cameras are only able to hide the downsides occasionally from the home audience, but not at all from the fans at the sports venues. The fans appear to get more returns on investment in this area than the home audience. After all, they paid more, and the organizers seem to reward them in this way.
The Wedlock Between Sports And Sports Wears Poses Many Morality Questions
No grave digger is surprised about contact with soil. That is why some people say that there was so much fuss about the kiss, making Rubiales suffer excessively, especially given the circumstances. Many have also said that even in the circumstances, nothing excuses lack of self-control. However, the global society must call out what seems a hollow pretense to morality in the context of the normal acceptance of near nudity as a franchise in sports.
Since the 8th century, tight-fitting wears have been an integral part of sports merchandise. In the Western world, where morality has a different colouration than elsewhere, the issue of nudity is downplayed. We have seen female patients come in with cases of sexual harassments against male doctors, who are compelled to treat them naked in many circumstances. Wives also press cases against their husbands for rape, to the consternation of many Africans. But should you rape a patient because you are a doctor or a wife because you are the husband? Yet, in how many of the cases between female patients and their doctors did rape occur? Shouldn't doctors have some protection just like lawyers, law makers and judges enjoy in what they say in defamation cases, for instance.
Many critics in the Rubiales-Hermoso kiss saga, mainly the female players, are miffed that so much misbehaviour from men has gone unreported in the past. As a result, there have been calls for more protection of women from unwanted actions by men such as happened when a former track world champion, Jana Pittman, was improperly kissed by a coach during her athletics career. The other moral poser is the joke that looking is free, but touching goes with a price. Interestingly, the western world that is much vilified for glorifying nudity in sports is the one showing a lot of interest in protecting women and morality in sports. This irony also displays in Africa where over 80% of the global cases of violence against women occur, yet the continent is known for its austere cultural-religious views on sex, nudity and morality. Indeed, one positive effect of the saga is the circumspection it will bring to men to use their power of self-control more. It also shows that the issue of consent is a very sensitive one, because it is at the very root of all the sorry tales about gender violence, which is currently ravaging women around the world. Yet, if morality must be upheld in sports, there are other questions to answer based on context, pressures, inequality, immunity, impunity and women's vulnerability.
Dr Mbamalu is a veteran Journalist/Editor, Communication Scholar and Publisher
Follow him on X: @marcelmbamalu