Rakim Hasheem Allen popularly known as PnB Rock was shot on September 12 during a robbery at Roscoe's House of Chicken and Waffles, Los Angeles.
The American rapper was said to be out with his girlfriend who was reported to have posted their location in a deleted Instagram post before the incident happened. From Stephanie (the rapper's girlfriend) testimony, it was reported that the suspect approached the deceased requesting for his items before shooting him multiple times and fleeing the scene.
Before the incident, the Philadelphia born rapper had shared with DJ Akademiks who runs a YouTube channel based on hip hop how he was almost robbed a week ago in LA while out with his girlfriend. DJ Akademiks shares on his Twitter handle.
This makes people wonder if the attack on PnB Rocks was more than an ordinary robbery.
Division occurs as some blame the girlfriend for carelessly sharing their location at that moment on her Instagram post which has been already deleted.
Nicki Minaj a fellow rapper mourned the rapper on her Twitter handle. She makes reference to the deceased pop smoke (also a rapper) whose case is similar to PnB Rock and while lamenting about the ugly incidents, advised that rappers and their loved ones should desist from publicly sharing their location.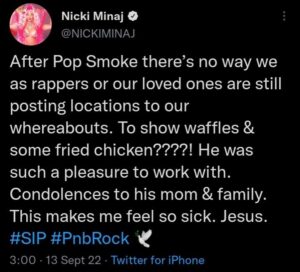 However, there was another group who stated that the girlfriend should not be called out for rapper's misfortune but should be shown sympathy. Cardi B (an American rapper) also took to her Twitter handle to reprimand those blaming Stephanie Sibounheuang, the Late PnB Rock's girlfriend for the unfortunate incident. But instead, sympathise with her.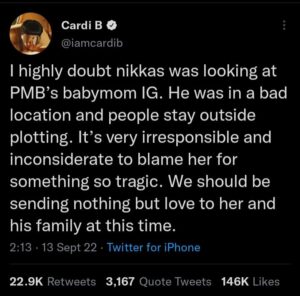 Atlantic records, the deceased rapper's label had taken to their Instagram page to mourn the rapper's unfortunate demise and had termed his departure as a 'senseless loss'
Many other celebrities also used their social media handles to cry out on the loss of the rapper.
Although PnB Rock's death is unfortunate, it can't be helped but seem similar to other rappers' incident. Some had come off to say it seemed planned. Pop smoke was shot in his rented apartment at Hollywood Hills. Lil Tjay , a rapper who luckily survived was shot multiple times during a robbery in June this year. Young Dolphy another rapper, was shot in the head, neck and torso multiple times last year.
Is the rapper's death just another death or is there a pattern to the multiple deaths that have occurred this year?.