…NO Constitutional Grounds For Governor's Impeachment – House Of Assembly Members
Youths in Plateau State have started a campaign to compel members of the  House of Assembly to impeach Governor Simon Lalong over recent killings in the state.
In a social social media broadcast obtained by Prime Business Africa, the people of the state were advised to call their representatives whose numbers were included in the message and tell them to impeach Lalong.
According to the broadcast, the Assembly members were given seven days ultimatum to act.
Prime Business Africa called some of the phone numbers attached to the message;  most of the phones were switched off, some others did not pick the calls.
However, two of the honourable members answered their calls.
A member representing Barkin Ladi constituency,  Hon. Peter Gyendong, said,  "We can't just wake up and decide to impeach the governor without reasons. We must have the impeachable offences he has committed before we can  look at that and there are processes involved. We are meeting with the governor to discuss the security issues in the state first and look for a way forward before we take any decision."
Asked if the failure to protect lives and property of the people is not enough impeachable offence, Gyendong stated that "Security is not a one man thing."
According to him, Lalong alone cannot protect the state.
Read also: Anambra Election: Appeal Court Adjourns Ruling On Ozigbo, Uba's Case
"What the people are demanding from him is to speak out against the killings which he did yesterday. Though I am not speaking for him, but you can see even in Katsina it is happening, in Sokoto, Zamfara, almost everywhere. Now, what is the forward for us to keep our people safe is what we should be concerned about," he said.
Also speaking with Prime Business Africa, Hon. Musa Agah Aviah, representing Irigwe/Rukuba constituency said the Assembly members met on Wednesday and nothing like impeachment was mentioned.
He said, "That is the position of some people and you know impeachment is not something you can just wake up in a day and do, it is purely a constitutional issue. So if we as a House discover there are some constitutional breaches in the performance of his Excellency, maybe then we can think of something like that.
"But our resolution on the floor of the house yesterday was to ask governor to enforce or implement some of the resolutions we have been passing since 2019 geared towards enhancing the security and property of people."
Asked if he didn't think they needed to do more as the killings have persisted since the 2019, he said, "Yes, we have been crying, we cry to government , we cry to international communities and now this insecurity is a global phenomenon, particularly in Nigeria. The killings are everywhere, destruction everywhere, bandits here and there, so it's a national issue of concern and we are doing all we can at our disposal to see that government rises to the occasion."
No fewer than 36 persons were killed in an attack on the Yelwa Zangam community in the Jos North Local Government Area of the state on Tuesday.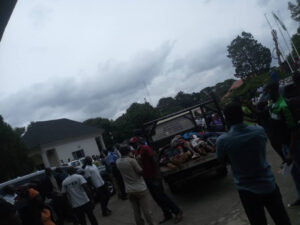 This was just as eight persons were allegedly killed by suspected herders in the Yelwata community, Guma Local Government Area of Benue State on Tuesday. It was alleged that several people were injured and one person was  abducted during the attack.
The killings stirred a massive protest in the state; youths took over some hospitals, including the Plateau State Specialist Hospital, Jos, where they seized corpses of the victims of the attack, and went round with them in a truck before depositing them at the Government House.