"But that statement he (Pele) made concerning me, which was captured on the pages of all the national dailies inspired me to get to where I am today. I later followed his career and even bought his book. He was my role model because he was a complete gentleman." – Felix Owolabi (MON) Green Eagles player and AFCON win.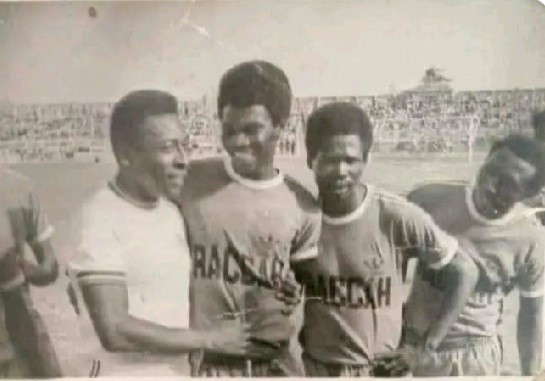 Association football was founded in Victorian England in 1863, and it travelled with their colonial and foreign service officials, merchant ships and traders, sailors and soldiers, and missionaries to the reaches of their empire. In the beginning football was an exclusive sport played at colonial leisure clubs and its first interaction was limited to Nigeria's emergent elite class.
READ ALSO: THE KING IS DEAD … LONG LIVE THE LION KING – Part 1
Football as The People's Sport Evolved by Osmosis
It was understandable that the British who brought football to our shores sought to modulate our natural flair and propensity for self-expression on the ball. In 1956 an SMA priest, Rev. Father Denis Joseph Slattery, who had taught in St. Gregory's College, Obalende, and in schools and parishes in the Western Region, asked the Catholic Archbishop of Lagos for land. He was allocated several plots in the wetlands of Akoka adjacent to the University of Lagos. There he established St. Finbarr's College, a day school for boys, with a mission to inculcate the 'leaders of tomorrow' with a passion for excellence in academics, technical education, civic and moral studies, and sports.
Father Slattery succeeded in the goals he set for his students for he turned out to be a polyvalent mentor – he was a part–time referee and football coach, moral instructor and disciplinarian, and teacher. But he understood that discipline was preceded by reason and that soldiers could become warrior-heroes if they were part of the process of goal-setting.
Father Slattery was a pioneer in more ways than one
He had discovered the Holy Grail and he used it to create football champions by melding tactics with a positive mental attitude, and discipline on the field of play with flair. For Nigeria's football, St. Finbarr's has produced its fair share of attackers and artistes from the '60s to date – Bernard Senaya, Emilo John, Chris Oyobio, Samson Siasia, Amaechi Nwogu, Nathaniel Ogedegbe, Olumide Banjo, and Henry Nwosu – who did their dribbles, feints, and nutmegs. But through the years it had also produced stoic defenders and defensive midfielders that gave their teams a thermodynamic balance – Godwin Odiye, Wakilu Oyenuga, Sam Owo, Emeka James, Paul Okoku, Nduka Ugbade, and Stephen Keshi.
Nigeria's Football Philosophy was Forged in High School
St. Finbarr's may have been the first high school to retain a fulltime technical director for sports – Mr. Anthony Omoera – who later served as St. Finbarr's College vice principal and principal. He was part of the structure that turned the school into a football powerhouse with many Lagos State Principals' Cup trophies to her credit over the years.
This method caught on and was replicated in mission and public schools around the country – thus was conceived the philosophical and emotional bases of the shape of Nigerian football. The first intake into the Green Eagles in the '70s and '80s were from this nationwide talent pool who had been fed from high school on an idea of fun but purpose-driven game of football and with the right mindset. Captain Christian Chukwu (MON): an AFCON winner attended National Secondary School, Nike, Enugu; Captain Segun Odegbami (MON): an AFCON winner attended St. Murumba College, Jos, Plateau State; and Chief Adokiye Amiesimaka (MON): an AFCON and Lagos State Principals' Cup winner attended CMS Grammar School, Bariga, Lagos — just to mention a few examples.
Nigeria's interpretation of the game and the head-spinning tales of the exploits of Pele and his national team mates became compatible: a synergy, in fact. This universal adulation of Pele may have indirectly caused the Nigeria Football Association to appoint Prof. Otaviano "Otto" Martins Gloria as Green Eagles national coach in 1979 in a clear departure from a string of English, Spanish, Hungarian, and German coaches which they had employed in the past. Otto Gloria succeeded Father Tiko (Tihomir Jelisavcic), a Yugoslav, who had recruited many of the talents that would win the 1980 African Cup of Nation under Otto Gloria.
Otto Gloria was not Nigeria's first Brazilian coach but he was the first to learn to harness the wind for the wings of the eagle.
Otto Gloria Stopped Trying to Reinvent A Variant of British or German Football on Nigerian Soil/Nigeria's football
Prof. Gloria was an instructor of football in a university in Brazil and he had achieved success at club level in Portugal and Spain. He looked at our game and decided that it had some similarities to that of his country of birth. High school football coaches in Nigeria had demonstrated that it always came down to the balance between creativity and proficiency. Great idea now let's perfect it. Otto Gloria allowed Felix Owolabi, Segun Odegbami, Adokie Amiesimaka, Aloysius Atuegbu, and Henry Nwosu to do the creative and stylish stuff upfront and on the wings – the dummy runs, turns-on-a-dime, the Zagallo (a Nigerian colloquialism for the bicycle kick), and the audacious low-lob over an onrushing defender. But right behind those crowd-pleasers were the regiment who enforced order on our own side of the field – Muda Lawal, Christian Chukwu, Godwin Odiye, and David Adiele.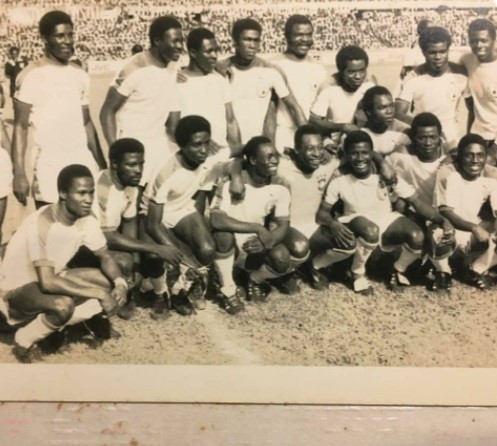 Oh yes! Otto Gloria never Tampered with our Traditional Wing Play
Otto Gloria's formula was a resounding success. The Green Eagles played an attractive game to defeat Algeria's Desert Warriors 3-nil in the final game of the 1980 African Cup of Nations tournament hosted by Nigeria. That was Nigeria's highest accolade in football yet and it opened up possibilities. Pele had told Felix Owolabi at an exhibition match in Kaduna that Nigeria had great prospects. Green Eagles just demonstrated that potential under Otto Gloria.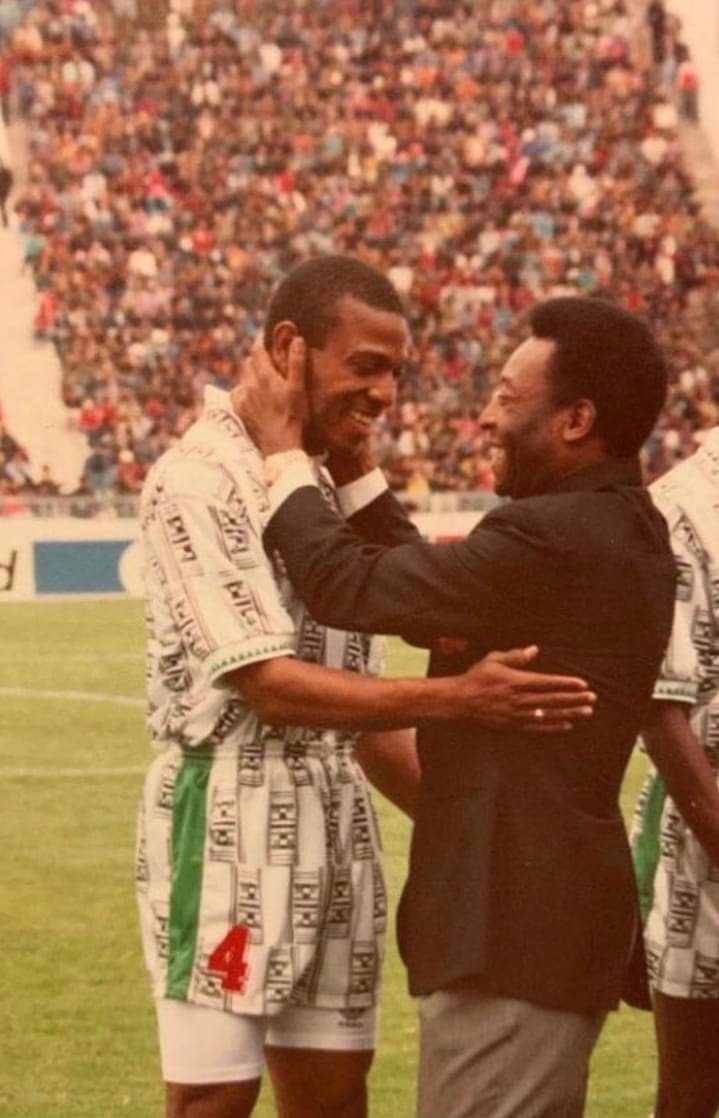 It was not surprising that Pele had followed Nigeria's football evolution for he was there at the 1994 World Cup in the US to see the Super Eagles team coached by Clemens Westerhof overthrow football powerhouses and set the tournament aglow. He was at the 1996 Atlanta Olympic Games as an honoured guest of the IOC to see Nigeria's Olympic squad, coached by Jo Bonfrere, pull a 'Brazilian' on a Brazil squad coached by Mario Zagallo. Nwankwo Kanu's equalizer for 3-3 in the Nigeria vs Brazil semifinal game has been frozen in time and mounted on football's Mount Rushmore somewhere in our imagination.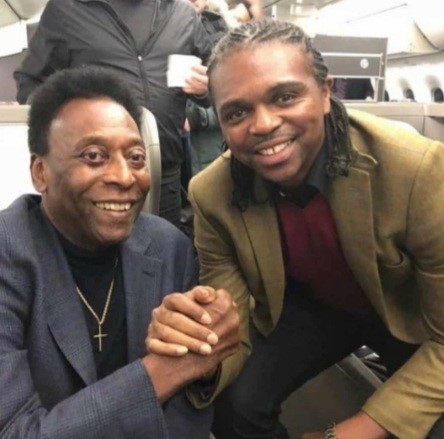 Pele was a Nationalist in a Manner of Speaking
However, Pele's most precious gift to Nigeria was his unplumbable love and compassion for the potential giant of Africa. He made several visits to Nigeria, both during his career and afterwards, to promote football. But I suspect he was doing more than that. In 1969, at the cruelest point of Nigeria's fratricidal war, Pele played friendlies at Onikan Stadium, Lagos, and Samuel Ogbemudia Stadium, Benin City; in 1976, Pele was in Lagos as Pepsi ambassador but was stranded in his hotel room by Lt. Col. Dimka's coup. He escaped Nigeria in the garment of a pilot; and incredibly, he returned again in 1978 to play a game against Raccah Rovers of Kano in the Ahmadu Bello Stadium, Kaduna.
There has been talk that Pele caused La Pausa in the shooting hostilities between Biafra and Nigeria in 1969, but Pele himself says he has no recollection of it. However, the remarkable thing was that Pele was nationally beloved even in a country that only established a TV station in October 1959, that is Chief Obafemi Awolowo's WNTV in Ibadan, and where the number of households with TV are countable. When it comes to football word of mouth was as swift as the wind.
"The world will not respect Africa until Nigeria earns that respect. The Black people of the world need Nigeria to be great as a source of pride and confidence!" – Nelson Mandela
The language barrier doesn't permit me to mine Brazilian (Portuguese) newspapers and magazines online for more information about Pele's motives, but it's fair to assume that Pele wished us well: Both as an attractive football-playing country and as a great nation carrying the hopes and aspirations of Black peoples everywhere. Yes, he had a perfect meeting of minds with Nelson Mandela on that score. At this time of great moral peril for Nigeria, ahead of our 2023 general elections, we remember a 'stranger' who loved us unconditionally.
May we be worthy of his love for he was the King of our Hearts.
Many thanks to Lt. Col. Patrick Efiom (USA, Retd.) and Mr. Clement Okoro (Opina) for guiding me through the feeder system for the national teams.
Ik Ngene, Prime Business Africa's public interest analyst,  writes from Atlanta.