Nollywood actress, Mary Njoku, has called all eligible Nigerians to cast their votes for competent candidates during the upcoming general elections.
The actress said that despite all the prayers Nigerians offer, God has never punished bad politicians in Nigeria and that this might be a sign for us to stop disturbing him to solve problems; they ought to sort themselves out.
Njoku wrote on her Instagram story that despite the overwhelming numbers of churches and mosques in the country, it still suffers from issues that are basic.
READ ALSO:2023 Election: 'We Have Been Able To Gather Momentum'- Falz
She wrote that the nation needs to be more in tune and tackle physical problems head-on instead of waiting for spiritual intervention, warning that the nation will fail if this continues.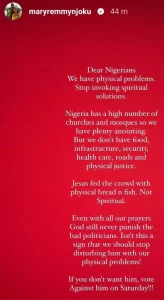 "Dear Nigerians, We have physical problems. Stop invoking spiritual solutions. Nigeria has a high number of churches and mosques so we have plenty of anointing. But we don't have food, infrastructure, security, health care, roads and physical justice. Jesus fed the crowd with physical bread and fish. Not Spiritual. Even with all our prayers God still never punish the bad politicians. Isn't this a sign that we should stop disturbing him with our physical problems! If you don't want him, vote against him on Saturday!!!" Mary Njoku said.
She also joined the list of vocal Nigerians about the coming elections and urged Nigerians to come out and vote during the elections on Saturday, February 25.
With only 5 days until the election, discussions about the upcoming election are heating up. The election has been generally tagged as one of the fiercest Nigeria has ever witnessed.