Ahead of the 2023 general elections, The Big Tent, a coalition of the Third Force, civil society organisations has rolled out plans for youth empowerment in the six geo-political zones of Nigeria.
Convener of BIG TENT of the Third Force movement, Prof. Pat Utomi, disclosed this during a press conference on Tuesday August 9, 2022 at Centre for Values in Leadership, Victoria Island Lagos.
In the briefing titled 'Putting Teeth to Words: How the Big Tent Plans Citizens' Collaboration to Birth a New Nigeria,' Prof. Utomi stated that the scheme would be a foretaste demonstration of the economic empowerment programmes that the Peter Yusuf Datti Baba-Ahmed government would bring to the table to scale up vital skill acquisition for the youths needed to turn the country from consumption to productive economy.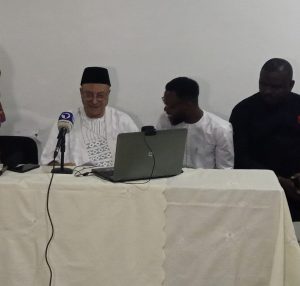 Utomi, a Professor of Political Economy, disclosed that to actualize the initiative, the Third Force has lined up free entrepreneurship programmes in various sectors to prepare the youths to take back their country from the grip of poor governance.
He indicated that to effectively carry out the programmes, the movement will from next week, commence what he described as 'Listening Clinics' across the country to ascertain what the problems of the people are in order to offer effective and sustainable solution. The listening clinic he said, will involve engaging farmers in local communities, Almajiris, teachers in the education sector, pensioners, manufacturers, health care profesionals and tech entrepreneurs to ascertain what is wrong and how to salvage the situation.
He said the listening clinic is necessary because "In many communities the top priority of the people at the bottom of the pyramid is usually not what politicians pay attention to," noting that the governments of the APC and PDP have failled to listen and know the real problems of the masses to be act to in their best interest.
"We believe that a government that cares must first listen to the people very deliberately," he added.
A plank of the skill acquisition programme Utomi said, will include policy initiatives and actions to tackle challenges of climate change and ensure environmental sustainability. This he said would take the form of involving the youth in a tree planting programme initiative to prevent desert encroachment especially in the northern part of Nigeria to be sponsored by a group of organisations.
"To shepherd these initiatives, including building a National Unemployment and employability dashboard and a Network of youth centres to be the incubators of future national prosperity.
"These initiatives will come with reforms of local government administrations to make them economic development units rather than political units that are drainpipes.
"We have also been putting in place policy teams to monitor current state of policy and prescribe alternatives. The policy teams will liaise with the Think Tank and Strategy Group that just yesterday held brainstorming sessions with Mr Peter Obi. To ensure that implementation is consistent with outcomes from the listening clinics, we are starting to run all over Nigeria, and that Nigerians own and monitor the programmes and use it to hold those in public authority positions accountable these groups will host workshops for all who aspire to public life," Utomi stated.
He further stated that the skills acquisition programme will be organised virtually will be inclusive of all who show interest.
Scaling up productive base of the economy
Speaking on how to tackle the poor performance of the nation's economy, Utomi reiterated the Labour Party presidential candidate Mr Peter Obi mantra of moving the country from consumption to production, stating that the strategy for achieving that would be turning to reviving manufacturing based on the country's factor endowments and exploiting the principle of comparative advantage among the regions with each striving to remain competitive in specific value chains they want to dominate.
He also disclosed that the party has the plan of decentralising governance structures, restructuring education system to be practical and entrepreneurship skill-based in different areas like agriculture, manufacturing, tech ecosystem, etc.
"Since every zone in Nigeria has endowments we can have balanced development with each zone aiming to be globally dominant player in the value chain. This means planning that will incline education, infrastructure, and even external relations policies to be focused on that endowment and the consequent value chain and I am persuaded that mineral, and agricultural values chains in the North-west can give us a new manufacturing base that can make Gusau, Funta and Kano big manufacturing hubs, just as Edo can host industrial parks processing plantain, cassava etc for export and local needs.
"In this planned industrial parks in which all the infrastructure deficits will be eliminated using markets to extract the so called 'prosperity paradox', will be highly primed to compete from clusters in which the many setbacks for competitive manufacturing in Nigeria will be reduced to a minimum.
"Among the endowments around which we aim for a specific industrial policy will be sesame seeds, cocoa, rubber, oil palm and limestone while growing the blue economy and tourism in the development of our long coastline."
He equally stressed that there would be reform of institutions like government regulatory agencies whose activities at times create an unconducive environment for businesses to thrive and discourages potential investors.
To implement their initiative, he said the team has disciplined and committed technocrats and patriots who would collaborate with diaspora partners.
Securing Nigeria
The Third Force he said is poised to secure and unite Nigeria as no meaningful development and prosperity can come without adequate security across the country.
"The big Tent is working on an approach to security that focuses on Decentralization with Federal coordination and standard setting which India has managed fairly well as well as a National Guard at local levels, besides policing, which is specific to the nature of insurgency at local levels."
The security architecture he stated, would significantly adopt an intelligence-based approach and rapid response, with the aid of technology.