As the Nigeria National Petroleum Company (NNPC), announces an increase in pump price of Premium Motor Spirit (PMS), in its retail outlets across the country,  Borno and Yobe States residents are to pay more.
Data released by the national oil company show differences in prices across states with effect from Wednesday, 31 May 2023, petrol will be sold  at ₦557 per litre in Borno and Yobe States.
READ ALSO: Updated: NNPC Increases Fuel Price, Filling Stations Now Selling At N500
The prices across states in the country ranges from ₦488 in Lagos (Southwest) to ₦557 in the Northeast (Borno and Yobe).
Residents of other states in Northeast will pay ₦550 according to the new NNPC price list.
States in the Northwest (Kano, Kaduna, Katsina, Jigawa, Sokoto and Zamfara) will be buying fuel in NNPC retail outlets at ₦540 per litre, except Kebbi residents that will pay ₦545.
Those in the North central region will get the product at ₦537 except Kwara state that will pay cheaper (₦515).
For Southeast, two states of Abia and Imo will get the product at ₦515 while the rest (Anambra, Enugu and Ebonyi) will be buying at ₦520 per litre.
READ ALSO: Fuel Subsidy Removal: Tinubu Responds To Long Queues, Rising Fuel Prices
Aside from Lagos, other states in Southwest region are to pay  ₦500 per litre.
For South-south,  the price varies across states. Akwa Ibom and Bayelsa pay ₦515, while Cross Rivers, Rivers, Edo and Delta are to buy fuel at ₦511.
The new price regime followed the announcement of upward review of prices by the NNPC on Wednesday, saying it is in line with "the current market realities."
The new prices also confirmed the full deregulation of the downstream sector of the Nigerian Petroleum Industry with petrol price now determined by dynamics in the market.
This is as a result of the announcement of fuel Subsidy removal by the new President, Bola Ahmed Tinubu, on Monday during his Inauguration.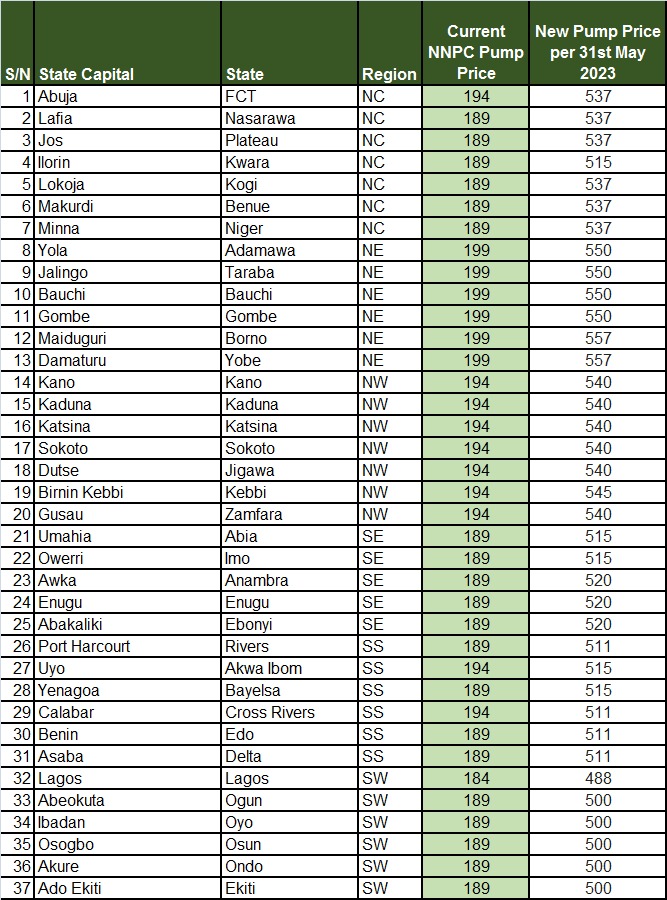 While NNPC assures ceaseless supply of products, the masses will have to grapple with the new price increase and the concomitant effect on other sectors such as transport, and others that rely on it to operate.
Various groups including Nigeria Labour Congress (NLC), and Trade Union Congress (TUC) have kicked against the subsidy removal. They said the government must provide alternatives to cushion the effects on the citizens before totally removing it if at all there is anything like subsidy.
Independent marketers are already selling the product above ₦600 per litre.
Credibility and transparency is our DNA at Prime Business Africa'. We strongly believe in the role of media as a watchdog of the society that powerfully promotes accountability and transparency in government.
By contributing to Prime Business Africa, you are helping to sustain good journalism and making sure that it remains free to all.
Support Investigative Journalism and Mentorship
Courageous Journalism of Truth,Transparency and Development is in the DNA of Prime Business Africa; By donating as little as N1000 or $1 today, you are helping to keep credible journalism and life-changing information free for all.